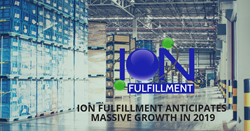 LARGO, Fla. (PRWEB) September 17, 2018
Ion Fulfillment is fortunate to be fully integrated with global contract manufacturing juggernaut Ion Labs. This symbiotic business relationship allows for extremely fast production times and several product advantages in the fulfillment industry, along with outstanding customer service and the best private label supplement pricing, the sky is the limit with Ion Fulfillment.
Ion Fulfillment is a BPO Fulfillment Partner that provides fast, cost-effective solutions to customers who are looking for a simple way to start growing their supplement business. Ion Fulfillment has an integrated approach to providing the best products at the best prices. Ion Fulfillment's order management system is fully automated and provides real-time data to streamline the process for every customer.
Ion Fulfillment has solutions for packaging, labeling, warehousing, customer service and online integration services which include but are not limited to:

Order Fulfillment (Wholesaler & Retailers)
Hassle-Free Order Processing
Dropshipping
Direct Response Communication (Direct-to-Consumer)
Return Processing (Reverse Logistics)
Pick & Pack Warehouse Capabilities
Ecommerce Integration
Retail and EDI
Some of the most popular private label supplements that are ready for purchase include:
Organic Hemp Oil
Keto Diet Supplements/Vitamins
Apple Cider Vinegar
Testosterone
NO2 Muscle
Businesses interested in learning more about private label nutrition or fulfillment warehousing capabilities should visit http://www.ionfulfillment.com.
About Ion Fulfillment
Ion Fulfillment leverages over 30 years of combined knowledge in private label supplements, fulfillment, and shipping/warehouse operations to provide clients with the best pricing and customer service experience in the fulfillment industry. Ion Fulfillment provides services that assist large, medium and start-up sized businesses looking to develop their own brand of private label supplements, private label skin care products or private label pet supplements. Ion Fulfillment is the top 3rd Party Fulfillment warehouse that combines inventory management logistics and ecommerce fulfillment integration with pick & pack dropshipping, kitting/bagging/labeling flexibility, and low product Straight Sale/On-Demand MOQs for businesses. Their warehouse is in a state-of-the-art facility that is FDA-registered and cGMP certified.