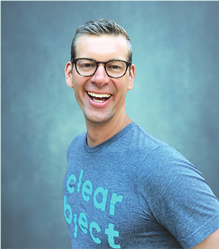 The establishment of a Customer Success Team is an acknowledgement that our customers success and the success of ClearObject are one and the same
INDIANAPOLIS (PRWEB) August 25, 2020
Earlier this year, ClearObject announced the establishment of a Digital Products Business Unit, creating a strategic focus on delivering valuable digital solutions for business customers around the world. The Indianapolis based technology company, is furthering this commitment by launching an innovative Customer Success Team, who will ensure that customers are able to maximize the value of digital innovation.
"The establishment of a Customer Success Team is an acknowledgement that our customers success and the success of ClearObject are one and the same," explains Noel Hopkins, Head of Customer Success for Digital Products at ClearObject.
"The aim is to ensure that as we partner collaboratively with our customers from ideation development and deployment of their digital products, that collaborative partnership extends into ensuring the value and the outcomes of those digital products are realized."
Customer Success is seen as a key enabler for solidifying ClearObject as an industry leader in initiating and accelerating digital transformation. The company already has specialist Ideation and Design Thinking facilitators, invests heavily in what it calls its 'collaborative approach' to creating and curating digital solutions.
The new Digital Products Customer Success Team will advocate for customers throughout all engagements and help establish long-term strategic partnerships for ClearObject.
About ClearObject
ClearObject is a leading IoT systems integrator and digital transformation company highly specialized in IoT Engineering, Analytics and Connected Product Development. As a certified Google Cloud Partner and IBM business partner, we're experts at developing and implementing targeted data analytics strategies based on your company's unique needs. Additionally, we can deploy, migrate and manage serverless cloud solutions, including AI tools and end-to-end machine learning models, so you're free to focus on what matters most: getting value from your data.