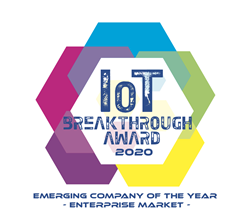 "Clovity will continue to drive progress and facilitate IoT deployment by developing the best product and most complete ecosystem for our clients"
SAN FRANCISCO (PRWEB) January 14, 2020
With over 3,700 hundred IoT Solution applicants and only 75 IoT award categories, Silicon Valley-based Clovity earns the prestigious award of "Emerging Company of the Year for the Enterprise Market" for 2020 from the IoT Breakthrough Award Program. Among a slate of announcements in recent months such as their newest platform iteration release of CSensorNet, multiple major OEM hardware/software bundles, the deepening of their relationship with the Microsoft IoT ecosystem, and the long desired IoT-as-a-Service Model, this IoT Breakthrough award stands as testament to the progress that Clovity has been driving towards for years now.
The IoT industry is just starting to heat up and Clovity is poised to capitalize on that growth in 2020. By consistently driving towards innovation in their technology, as well as their business models, they have become a stand out solution for enterprise, industrial, and smart city IoT. Offering a full suite of pre-integrated devices, cloud and network connectivity, analytics, dashboards, AI/ML, and the ability to do any necessary customized development on their CSensorNet platform, Clovity has taken the complexity out of developing a connected IoT sensor solution.
By partnering with OEM's like the 2019 IoT Enablement Company Award category winner, Advantech, and the IoT juggernaut that is Microsoft, they have ensured their access, longevity, and progression in the IoT space. With CSensorNet's capabilities to curtail to hundreds of different use cases, intuitive dashboards, advanced data algorithms, edge computing capabilities, end-to-end encryption, and incredibly user friendly configuration platform, it is a one stop shop for enterprises and cities alike.
CSensorNet caters to the deployment and stacking of Smart City as well as Industrial solutions such as Critical Asset Tracking/Monitoring, Fleet Management (Health & Live), Smart Environment, Smart Traffic, Smart Lighting, Smart Public Safety, Smart Parking, Smart Emergency Response, Smart Agriculture, Smart Disaster Management, Smart Transportation, Smart Energy, Smart Governance, Smart Education, Smart Water/Resource Management, Smart Weather and a myriad of others being created daily.
"The announcement of us winning the Emerging Company of the Year for Enterprise market from IoT Breakthrough couldn't have come at a more pivotal time for Clovity," said CEO, Anuj Sachdeva. "The team has worked incredibly hard to get us where we are today, both as a company and as a product. Clovity will continue to drive progress and facilitate IoT deployment by developing the best product and most complete ecosystem for our clients", he adds.
For more information about the Clovity partnership ecosystem and how CSensorNet can accelerate your cities IoT solutions, please reach out to us as sales@Clovity.com.
About Clovity
Clovity is a privately held professional services and IoT Platform company based in the heart of Silicon Valley, California. We work to develop smart products, connected solutions and operate as a Service. Clovity is rapidly growing by partnering with many global hardware, software and sensor manufacturers to fully integrate our software into their products and/or software.
Clovity specializes in 4 practice areas - IoT, Cloud, Data and Digital powered by our platform CSensorNet and it brings together "connected things" and data computing closer to the edge, enabling interactions with connected devices to happen much faster. Clovity's IoT software is geared for the Industrial, Transportation, Retail, Smart Cities, Telecom, Agriculture, Financial Services as well as Healthcare verticals. We have pre-packaged HW/SW bundles for vertical industry focused use cases such as Smart E-Houses, Smart Industrial, Smart Building, Smart Asset etc. which combines our software platform and leading HW providers OOB.
We were named 2018 and 2019 Top Growth IoT Provider in the US by CIO Review magazine as well as 2020 IoT Breakthrough Award for Emerging Company of the Year for the Enterprise Market. Clovity's platform and global partnerships enable millions of interactions with thousands of connected devices daily, while serving up massive amounts of actionable data in milliseconds for numerous types of vertical use cases.
Clovity is a fully staffed software and services organization, with operations in major US cities and abroad in New Delhi India where our Deliver Center is located. We are also Diversified and Inclusive certified, an approved Government Services Provider, and are a Minority owned Business.
Follow us at:
LinkedIn: https://www.linkedin.com/company/clovity/
Twitter: https://twitter.com/ClovityInc