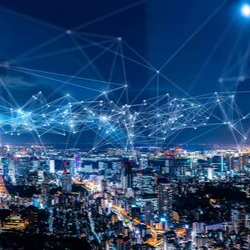 "The lifeblood of smart cities is connectivity, just as it is for smart hospitals, smart banks, and other IoT-dependent industries."
SYOSSET, N.Y. (PRWEB) September 23, 2019
A recently announced $7.5 billion real-estate project in Las Vegas, NV will offer renewable energy sources, autonomous vehicles, and augmented reality, among other high-tech features. The privately funded "mini-city" will include residential, office, and retail space, along with hotel and entertainment facilities.[1]. "Over 50 percent of the world's population already lives in cities," says Choice Business Connections CEO Darren Sadana, "and it's projected that 68 percent will be urbanized by 2050[2]." Sadana, whose company specializes in wireless connectivity for IoT and solution providers, adds, "Given this pattern and current technological capabilities, we can expect to see more 'smart cities' begin to emerge in the near future."
Bleutech Park Las Vegas is scheduled to break ground in December 2019—it is expected to take six years to build out. Within the complex, said by its developer to be the first of its kind in the world, flooring will capture and reuse the energy of human movement. Photovoltaic glass will be standard in all structures, turning building exteriors into solar panels and enabling the resources needed for heating, cooling, lighting, and electricity to be generated onsite. Security will be provided robotically via biometrics and other techniques[3].
The project, says Sadana, provides a striking example of the extent to which IoT technology has come to impact mainstream companies, ordinary consumers, and the world marketplace; the global IoT market is expected to be more than $3 trillion annually by 2026[4]. A key component of this growth, according to industry observers, will be fifth-generation (5G) cellular telephone technology, which is not expected to be widely available in the U.S. until 2020[5].
The true infrastructure of tomorrow's smart cities, Sadana notes, consists of thousands of IoT-based applications and solutions. Ideally, these solutions, created by individual software developers, combine into the constant flow of information that enables a connected community to function. Going forward, developers will need to work closely both with governmental entities and the private sector to ensure that business and community priorities are being met[6].
"The lifeblood of smart cities," says Sadana, "is connectivity, just as it is for smart hospitals, smart banks, and other IoT-dependent industries. It is also the lifeblood of solution providers. In managing their businesses and planning expansion, these companies should be aware that connectivity needs can fluctuate, and that it is possible to obtain accurate, current information—including pricing and contract requirements—about this essential commodity."
About Choice Business Connections
Choice Business Connections Inc. provides a wireless connectivity and management platform for IoT-based solutions providers in the consumer-facing, public, industrial, and infrastructural sectors. With a business model based on ease of use and transparency, CBC is dedicated to helping its customers deploy their solutions with maximum ease and control with the lowest possible connectivity cost. For more information, please see http://www.choiceiot.com.
1. Miller, Cody, "Company plans to build $7.5 billion 'smart mini-city' in Las Vegas," KSNV News, August 10, 2019.
2. "68% of the world population projected to live in urban areas by 2050, says UN", United Nations Department of Economic and Social Affairs, May 16, 2018.
3. Kalinoski, Gail, "Las Vegas' $7.5B Project Aims to Redefine the Smart City," Commercial Property Executive, August 1, 2019.
4. Newman, Peter, "IoT Report: How Internet of Things technology growth is reaching mainstream companies and consumers," January 28, 2019.
5. Garcia, Ahiza, "Looking for 5G? Here are the US cities that have it," CNN, April 9, 2019.
6. Ward, Pat, "Software Applications: The Infrastructure Behind Smart Cities," DevPro Journal, August 8, 2019.