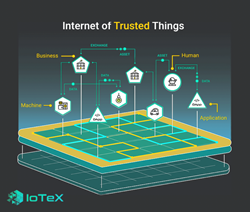 Ucam and Pebble Tracker enable users to truly own their data, a key pillar in IoTeX's vision for the Internet of Trusted Things.
MENLO PARK, Calif. (PRWEB) October 01, 2019
IoTeX (iotex.io) today announced two new IoT hardware products, Ucam and Pebble Tracker. The trusted hardware devices are part of IoTeX's mission to establish a new paradigm for consumer data privacy and ownership. Based in Silicon Valley, IoTeX is the leading privacy-IoT platform incorporating blockchain, confidential computing, and decentralized identity to deliver end-to-end trust and privacy to users. The introduction of Ucam and Pebble Tracker is a significant milestone for the connected hardware industry and serves as an important demonstration of IoTeX's vision for the Internet of Trusted Things.
IoTeX will showcase the new products at TechCrunch Disrupt in San Francisco on October 2-4, including a presentation on the Main Stage on October 3 as well as live demos in Startup Alley.
Ucam and Pebble Tracker are designed in-house with built-in secure elements and run on IoTeX's blockchain-based platform, which launched earlier this year. The hardware is tamper-proof, while data access controls are securely enforced via blockchain, enabling fully trusted data that is accessible only to the device owner and authorized users. IoTeX's unique combination of hardware and software presents a new alternative for people to control their data and privacy without sacrificing user experience.
"Many people dream about the future Internet of Things," said IoTeX Co-founder & CEO Raullen Chai. "At IoTeX, we have even bigger dreams - our goal is to build the Internet of Trusted Things, where trust, security, and privacy come standard for all connected devices and users. Ucam and Pebble Tracker are major milestones for IoTeX, as they introduce our first tangible blockchain-based products and a new paradigm for data privacy."
Ucam is a next-gen, state-of-the-art home security camera that is user-centric and fully private. Ucam is equipped with premium features, including 1080p HD video, motion detection, night vision, and two-way audio, allowing users to seamlessly monitor their homes from anywhere at any time. But what truly differentiates Ucam is end-to-end encryption of all content, full data ownership, and blockchain-based authorizations. Ucam immediately encrypts all content "on the edge", meaning videos are fully encrypted and private even if intercepted mid-transmission, and can only be decrypted by an authorized device. Ucam owners, not corporations or Cloud providers, own the data and have the choice of whether to keep it fully private or to grant access to selected parties via blockchain-based authorizations.
Pebble Tracker is the first fully-trusted smart GPS and environmental tracker with 4G connectivity and unique track-and-trace capabilities. Unlike other trackers on the market today, Pebble Tracker tracks not only GPS location data, but also real-time environmental data. This includes temperature, humidity, and air quality metrics, greatly expanding the range of use-cases for end users. Furthermore, while many of today's IoT devices lack built-in security, Pebble Tracker incorporates secure hardware elements from Arm to enable new levels of native security. Similar to Ucam, Pebble Tracker provides device owners with the option of keeping their data fully private, sharing it with others, exposing it to service providers, and more.
At the same time as the debut of Ucam and Pebble Tracker, IoTeX also announced a hybrid blockchain-Cloud backend service. Fully compatible with IoTeX's new hardware products, the service encrypts and stores data on a private Cloud, with access controls enforced by IoTeX's blockchain-based decentralized identity framework. This software service perfectly complements IoTeX hardware to facilitate various IoT use cases with high volumes of data. With the emergence of new consumer data protection laws, IoTeX presents a holistic solution to ensure data security, integrity, and confidentiality, while also delivering best-in-industry user experience.
"This is just the beginning," said IoTeX Co-Founder & COO Jing Sun. "Ucam and Pebble Tracker enable users to truly own and control their data, a key pillar in building the Internet of Trusted Things. While our upcoming products are developed in-house by IoTeX and our partners, we are also working with other global device manufacturers and enterprises to bring the same security and privacy to more smart devices and ecosystems around the world."
Ucam and Pebble Tracker will be debuted at TechCrunch Disrupt in San Francisco this week. The IoTeX team will deliver a presentation on the TechCrunch Main Stage as well as host live demos for attendees. Pre-order details will be announced in the coming weeks. For more information on Ucam and Pebble Tracker, please visit the IoTeX secure hardware website: https://www.iotex.io/securehardware.