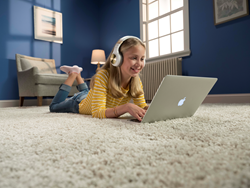 As we enter our seventh school year, we are excited about our continued growth and look forward to serving both new and returning students this year.
ANITA, Iowa (PRWEB) January 03, 2019
Iowa Connections Academy, a K-12 online school serving students statewide, is now enrolling new and returning students for the 2019-20 school year. Families can begin the enrollment process now through March 1, 2019, when open enrollment closes in Iowa.
To help families learn about its online program and individualized approach to education, Iowa Connections Academy will host free in-person and online information sessions, as well as online parent panels, throughout January and February. In-person sessions will take place in Waterloo, Dubuque, Davenport, Clive and Mason City, offering families the chance to meet school administrators or teachers and ask any questions they have about the school.
"As we enter our seventh school year, we are excited about our continued growth and look forward to serving both new and returning students this year," said Dr. James Brauer, principal at Iowa Connections Academy. "I encourage families who are considering switching to an online school model to take advantage of one of our in-person or virtual events over the next two months, as these events will help to answer any questions parents may have about our school."
Iowa Connections Academy serves a wide array of students, from those who benefit from a flexible schedule to those who learn at a different pace from their peers or need more individualized attention. The school's student body includes competitive athletes, previously home-schooled students and those seeking expanded course offerings.
The school offers a rigorous curriculum with innovative and diverse courses, including foreign languages, digital technology and web design, as well as Advanced Placement (AP) courses for students interested in college-level curriculum. State-credentialed teachers work with students to develop customized learning programs that are tailored to each student's education needs while maintaining a curriculum that meets state education standards.
For more information on Iowa Connections Academy, please visit the school's website at http://www.IowaConnectionsAcademy.com.
About Iowa Connections Academy
Iowa Connections Academy is a tuition-free, high-quality, highly accountable virtual public school serving students in grades K-12 throughout Iowa. Iowa Connections Academy is accredited by the North Central Association Commission on Accreditation and School Improvement (NCA CASI), an accrediting division of AdvancED. The school opened in 2012 and operates in partnership with CAM Community School District. Iowa Connections Academy provides students with the flexibility to learn from anywhere with an innovative curriculum that meets rigorous state education standards. The combination of Iowa-certified teachers, a proven curriculum, unique electives, technology tools and community experiences creates a supportive and successful online learning opportunity for families and children who want an individualized approach to education. For more information, call 712-762-3496 or visit http://www.IowaConnectionsAcademy.com.