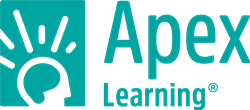 "At this difficult time, we are very happy to be able to support districts, students and their families as they focus on using new, online learning environments – and now within their own homes." - Chris Porter, CEO, Apex Learning
SEATTLE (PRWEB) April 02, 2020
Apex Learning, a recognized leader in online learning for secondary education, is pleased to share that its curriculum has now been approved in Iowa as a private provider of online course content to support the state's virtual learning needs. The Iowa Department of Education approved Apex Learning Courses, which districts can use as they shift their programs to remote learning options.
"At this difficult time, we are very happy to be able to support districts, students and their families as they focus on using new, online learning environments – and now within their own homes," said Chris Porter, CEO, Apex Learning. "We know these new options will provide districts with the support they need to provide effective learning options for their students both now and when they return to schools."
The Apex Learning Iowa state-approved courses cover a range of digital learning needs, including, English language arts, math, science, social studies, foreign language, CTE, and electives.
About Apex Learning
An industry leader in online education with deep expertise in digital curriculum, Apex Learning works closely with school districts across the country to implement proven solutions that increase on-time graduation rates and create opportunities for student success in school and beyond. The company is driven by the understanding that supporting the needs of all students – from struggling to accelerated – strengthens schools and creates stronger communities, brighter futures and a more equitable world. Apex Learning is accredited by AdvancED and its courses are approved for National Collegiate Athletic Association eligibility. Apex Learning, where opportunity thrives. For more information, visit http://www.apexlearning.com