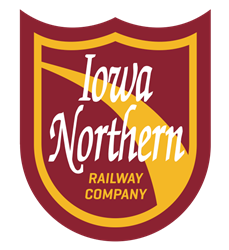 "We're not a huge railroad, but we are a busy one...it's very important that we plan how to remain efficient and profitable. (CrewPro is) simple to use and lets us keep our crew management in one place." Mark Vaughn, Assistant General Manager, Iowa Northern Railway Co.
LOUISVILLE, Colo. (PRWEB) April 03, 2019
Iowa Northern Railway selects CrewPro Short Line for next-generation crew management and scheduling.
Operational efficiency gains and reducing operational costs were key drivers in solution selection.
Louisville, Colorado – April 03, 2019
PS Technology, the only provider of CrewPro Short Line™ Crew Management announced that Iowa Northern Railway will be updating their current crew scheduling operation with CrewPro Short Line.
"We're not a huge railroad, but we are a busy one.", said Iowa Northern's Mark Vaughn, Assistant General Manager. "It's very important that we plan how to remain efficient and profitable. We found CrewPro Short Line was the best solution for us to manage our train crew environment while lowering total operational cost. It's simple to use, keeps complete digital records, and lets us keep our crew management in one place."
PST's president Seenu Chundru commented, "We are looking forward to helping Iowa Northern improve their operations with CrewPro Short Line. Being able to help short lines by embedding 30 years of rail domain expertise into our cloud technology services is a really big deal."
CrewPro Short Line is designed to automate much of the crew calling process while ensuring that FRA regulations regarding hours of service and rest are followed. Logs and history are all automatically kept for FRA inspection. Train crews can also check their work schedules from mobile devices, making employee personal planning much easier.
"PST is giving us the ability to think about our railroad a little differently. We might even look at some commercial opportunities that weren't available to us earlier.", said Vaughn.
About PS Technology
PS Technology is committed to delivering significant and measurable returns to its clients and partners. For over three decades, PST has improved the processes and systems surrounding crew management, timekeeping and physics-based simulation solutions with integrity and a desire to create value.
PST's asset management systems power the largest railroads in North America. PST's crew management and timekeeping solutions have been used to manage the day-to-day operations of over 100,000 employees that run, maintain and support rail operations across more than 120,000 miles of rail. PST's physics-based simulation solutions provide a premium learning environment.
About Iowa Northern Railway Co
Iowa Northern has 253 miles of track, three direct Class 1 interchanges and a short line interchange, serving 20 grain elevators, two ethanol plants, two mineral processing facilities, and handles other commodities such as fertilizer, farm machinery, food, chemicals, lumber, and more. Sites are available along our line to develop new facilities whether a few acres are needed or over 100 acres.
Iowa Northern is the serving carrier to Manly Terminal, which is a liquids storage and transloading facility, serving biofuel production industries handling fuels, chemicals, and co-products, located in the heart of ethanol production in the United States. Manly Terminal is also involved with renewable energy as it has over 20 acres dedicated to a wind turbine component distribution center.
Trademarks
PST and PS Technology are registered trademarks of PS Technology.
For more information, contact:
Mark Bremmer
Senior Marketing Manager
PS Technology
303.527.2111
mark.bremmer@pstechnology.com
http://www.pstechnology.com
###