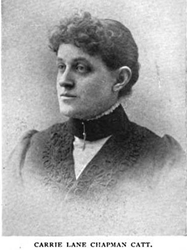 Women have suffered agony of soul which you can never comprehend, that you and your daughters might inherit political freedom. That vote has been costly. Prize it!
AMES, Iowa (PRWEB) February 14, 2020
In a nation of political divides, Iowans have united today to celebrate 100 years of women's right to vote and to honor notable women from Iowa and across our nation who won the 70-year, hard-fought battle for woman suffrage.
Today's statewide kickoff event, one of many events scheduled across Iowa throughout 2020 commemorating the 19th Amendment centennial, is being held at Iowa State University's campus and hosted by the Iowa Department of Human Rights' Office on the Status of Women and the Carrie Chapman Catt Center for Women and Politics.
"Today is a historically significant day for one of the nation's greatest suffrage movement leaders, our very own Carrie Chapman Catt of Iowa," says Karen Kedrowski, director of the Carrie Chapman Catt Center. "This Valentine's Day kickoff event is exactly 100 years from the date the national League of Women Voters was formally organized by Chapman Catt at the National American Woman Suffrage Association's convention in Chicago, which occurred six months prior to the ratification of the 19th Amendment."
Earlier today, event attendees were treated to brunch, a premiere viewing of Iowa PBS' "Carrie Chapman Catt: Woman Warrior" documentary and a campanile concert. This afternoon attendees will attend breakout sessions, watch "The Yellow Rose of Suffrage" play and listen to the keynote address by Elaine Weiss, author of "The Woman's Hour: The Great Fight to Win the Vote."
"Carrie Chapman Catt was an extraordinary leader in the fight to expand our democracy, and I'm especially honored to speak about her role in the suffrage movement at her alma mater, Iowa State," says Weiss.
Weiss will speak about the lessons of the woman suffrage movement and the relevance of its themes in 2020. Chapman Catt is a central character in Weiss' book that Steven Spielberg's Amblin production company is adapting for TV.
"In terms of human and civil rights in the United States, ratification of the 19th Amendment was one of the most transformative milestones in history," says Sue Johannsen of Muscatine, 19th Amendment curriculum lead organizer and developer of suffrage learning resources for grades 9-12 in Iowa schools. "The struggles and determination of women suffragists and their monumental achievement is one that merits education and reverence by Iowans of every age."
In her Aug. 26, 1920, ratification speech, Chapman Catt called on women to remember — and ensure their daughters are taught and remember — the hard fight for women's right to vote. Chapman Catt said, "The vote is the emblem of your equality, women of America, the guarantee of your liberty. That vote of yours has cost millions of dollars and the lives of thousands of women. Women have suffered agony of soul which you can never comprehend, that you and your daughters might inherit political freedom. That vote has been costly. Prize it!"
Doris Kelley of Cedar Falls, 19th Amendment centennial commemoration chair, says women also need to help carry on the hard-won success of the suffrage movement by recognizing the work is not done.
"Women are still fighting for equal work for equal pay and equal representation in elected offices and corporate governance," says Kelley. "I want to thank all the modern-day suffragists at our event today. Many of you have organized commemoration events, including this kickoff. Others have given financially as 'Leaders of Equity' to help fund and promote events and programs throughout Iowa all year to commemorate this important milestone, but also inspire Iowans to continue the fight for equity and equality. I hope you will consider donating to our campaign to keep today's momentum going."
For more information about the event, please visit HardWonNotDone.com. For more information about the 19th Amendment Centennial Commemoration Committee and events scheduled throughout the year, please visit 19th-Amendment-Centennial.org or call Doris Kelley at 515-988-2344.