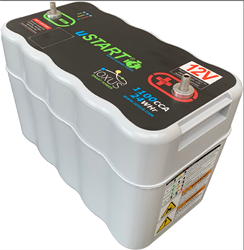 The uSTART Bluetooth connection saves time and improves safety during roadside events by providing the ability to remotely check battery voltage and uSTART status or use the system's jumpstart capability without needing to access the battery box
ONEONTA, N.Y. (PRWEB) March 21, 2019
Ioxus, designers and manufacturers of smart power solutions based on its widely used ultracapacitor technology, today announced a new Bluetooth interface for its uSTART intelligent power management system.
"The uSTART Bluetooth app brings wireless capabilities to fleet technicians and drivers," said Jeff Colton, senior vice president of global sales for Ioxus. "The connection saves time and improves safety during roadside events by providing the ability to remotely check battery voltage and uSTART status or use the system's jumpstart capability without needing to access the battery box. The Bluetooth app for uSTART helps complete inspections, maintenance and service quickly and more efficiently."
Functions enabled using the new Bluetooth interface for uSTART include:

Visibility for drivers into battery voltage and uSTART status to determine if the vehicle needs to be started to charge the batteries
Remote checking of uSTART and battery health without connecting diagnostic tools, saving technician time
Enabling technicians to place uSTART in Run or Maintenance mode without accessing controls on the device
Jumpstart capabilities for drivers and roadside service technicians without the need to push a button on uSTART or connect jumper cables or chargers
Installed by an OEM or retrofitted as a drop-in Group 31 battery replacement, uSTART systems are available for Class 6 package and other delivery trucks and for Class 7 and 8 day cab trucks and tractors with up to 12-liter engines. With uSTART, fleets realize the benefits of eliminating costly and time-consuming road calls for engine starting issues, improved starting reliability and extended battery and starter life.
Replacing one or more truck batteries with uSTART also delivers remarkable fleet sustainability benefits. "If just 10% of trucks that could use uSTART did use uSTART, from Class 8 day cab, to local delivery, to yard-dogs and airport cargo tractors, millions of pounds of toxic lead and sulfuric acid would be eliminated from the environment," says Colton. "uSTART systems reduce waste and make it easier to adhere to environmental regulations by substantially reducing the number of batteries a truck consumes throughout its service life."
About Ioxus
Incorporated in 2010, Ioxus is the smart power company that designs and manufactures intelligent power and energy storage technology for transportation, alternative energy, medical, industrial and grid-connected markets. Designed and manufactured in the U.S., the company's uSTART® and X-Series® products are based on patented ultracapacitor technology. Ioxus is headquartered in Oneonta, NY, with sales, service and quick-delivery inventory. For more information, visit http://www.ioxus.com.