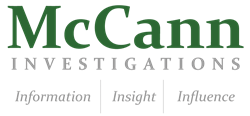 McCann Investigations has signficant experience in analyzing the theft of intellectual property to find the perpetrator and bring him or her to justice.
Houston, TX (PRWEB) August 12, 2013
McCann Investigations, a firm based in the Houston area specializing in private investigations and digital security, recently announced the availability of its range of intellectual property theft investigation services.
Intellectual property is defined as any type of innovation, whether commercial or artistic. It could be a new method or formula that has specific economic value, a symbol or logo for a brand, trademarks, music copyrights, videos, patterns or any other type of creation to which a person can claim intellectual ownership.
"McCann Investigations has significant experience in analyzing the theft of intellectual property to find the perpetrator and bring him or her to justice," said Daniel Weiss, Managing Partner at McCann Investigations. "We understand the amount of time and effort that has been put into developing this intellectual property, and we want all of our clients to feel comfortable in knowing that we will get to the bottom of their case quickly."
The theft of intellectual property is a serious crime that is unfortunately easy to perform – all the thief has to do is copy the work of someone else. On the business level, intellectual property theft becomes more sophisticated, as network vulnerabilities could be exploited to access intellectual property and other trade secrets. Perpetrators could be current employees, former employees or a competitor looking for an edge in the market.
In analyzing an intellectual property theft case in Houston, McCann's investigators carefully look into data breaches, channels through which important company information passes and a variety of other items.
"Everyone deserves to know that their intellectual property is safe, and that no one else is profiting off of their hard work," said Weiss. "We encourage anyone who believes that they are a victim of intellectual property theft to come and seek the assistance of our highly trained and experienced private investigators."
For more information about the services provided by McCann Investigations in the Houston area, visit the company's website at http://www.mccanninvestigations.com and follow the company on Twitter at @mccangi.
About McCann Investigations
McCann Investigations is a Texas-based private investigations practice focused on comprehensive investigations incorporating digital forensics, surveillance, undercover work and background checks for clients in various case types. Service areas include intellectual property theft, non-compete enforcement, fraud, embezzlement and family law. McCann Investigators are experts in the latest computer forensics tools and are licensed with the state of Texas. McCann examiners have provided expert testimony and reporting in hundreds of cases across the state.