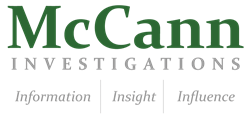 It is extremely important that you do everything you can to protect your intellectual property
Austin, TX (PRWEB) October 26, 2013
McCann Investigations, a Texas-based firm specializing in private investigations and a wide variety of digital security services, announced that its Texas clients now have access to its intellectual property theft investigation services.
Intellectual property theft is the theft of any type of commercial or artistic idea that a person can claim ownership to. Specific examples include recipes, designs for products, brand images or logos, copyrights, original content, etc.
"It is extremely important to do everything at you can to protect your intellectual property," said Daniel Weiss, Managing Partner at McCann Investigations. "Our Austin security specialists work closely with their clients to ensure that no IP theft case goes unsolved and that that property will be protected in the years to come."
Unfortunately, intellectual property theft is all too common, and in many cases, the victims are unaware of the crime until it is too late and the perpetrator has already seen a significant benefit. The crime itself could be a small act of plagiarism or an advanced network of hackers who break in to a company's system to find crucial trade secrets. Common perpetrators include former employees or competitors who are in desperate need of an edge in their market.
McCann's Austin digital forensic analysts pore over all evidence of data breaches and locate the most vulnerable points within networks, and then monitor all channels through which important company information passes. This helps them to track down the source of the crime.
"No one should have to sit back and watch someone else profit off of their own ideas and hard work," said Daniel Weiss, Managing Partner at McCann Investigations. "If you have ever been a victim of intellectual property theft or believe that your property has been stolen, we encourage you to take action today."
For more information about the services provided by McCann Investigations in the Austin area, visit the company's website at http://www.mccanninvestigations.com and follow the company on Twitter at @mccangi.
About McCann Investigations
McCann Investigations is a Texas-based private investigations practice focused on comprehensive investigations incorporating digital forensics, surveillance, undercover work and background checks for clients in various case types. Service areas include intellectual property theft, non-compete enforcement, fraud, embezzlement and family law. McCann Investigators are experts in the latest computer forensics tools and are licensed with the state of Texas. McCann examiners have provided expert testimony and reporting in hundreds of cases across the state.