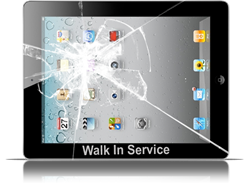 Professional iPad Screen Repair in London Leads the Way With iPad Repair
London, City of London, Surrey, Kent, Essex, (PRWEB UK) 31 July 2013
iPad Repair London is producing a range of comprehensive professional repair services that have continued to grow in popularity and reputation as one of the the UK's only specialist companies offering express repairs on the complete range of Apple iPad devices, including the iPad 4, devices with Retina Display and also the iPad Mini.
iPad Repair London have looked to leverage an understanding of the tech marketplace by filling the void which exists in the UK with regards to urgent repair services, by offering 'same day' and 'next day' options designed to ensure repaired devices are returned to their owners quickly, with free national collection and delivery. The free collection offered can mean a damaged device may be collected from a customer in as little as 90 minutes in some parts of London, meaning the iPad screen repair services are positioned to appeal to businesses in addition to personal customers.
Having built a strong reputation with quality services and a high level of customer service, iPad Repair London operate with an ethos of putting clients and customers first. All of the company's unique selling points, such as using published fixed prices for iPad screen repairs, extended industry warranties and a 7 day working week, are all underpinned by the company's advertised commitment to customer satisfaction.
"Our 'Service Promise' is our approach to high quality service. We live in times where everything is about saving money to an extreme, so our 'Service Promise' is simple, we promise that we will always display our phone numbers so that we're easily contactable, and that we'll answer your call within 7 rings 98% of the time. We also promise that you'll be given a named contact who is responsible for your service and repair from start to finish. It's as simple as that." - Ryan Newman
iPad Repair London are a London based iPad repair company offers iPad screen repairs across the UK. Customers can find out more about at the official company website http://www.iPadRepairServices.co.uk or alternatively please contact 020 3397 4232 directly, with a customer service representative available 7 days per week.