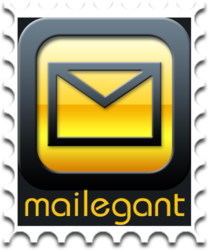 "Be different. Be mailegant!"
M. Bogdan, iNimated.com
Baden, Switzerland (PRWEB) July 01, 2013
A small international team of software engineers, iNimated.com, has realized what all big web email hosters and software companies have yet failed to do: Rich text email formatting is finally available on mobile tablets like the iPad – and more! While most email apps concentrate on improving the email reading process, the "First Real Email Text Processor" called mailegant Writer (Website of mailegant) focuses on the email writing experience. mailegant Writer runs in addition to the user's favorite email client and implements a full-featured rich text editor, specialized in writing smart, elegant emails. It will be available as a cloud web service, an app for tablets and a full application for Windows and OSX with one consistent user interface. Starting today, the beta version of mailegant Writer is available exclusively for the contributors of iNimated.com's Indiegogo crowdfunding campaign over desktop and tablet browsers. Read how mailegant Writer meets all arguments against HTML email!
Unlike other mail editors, mailegant Writer can create emails with formatted text, built-in pictures, tables or even maps which are correctly displayed in all popular email clients. A cloud service allows syncing between devices, and a private-cloud-based "PRISM"-safe server meets the requirements of privacy-sensitive teams.
mailegant Writer is the perfect software tool for email users who sometimes miss the option to write properly formatted emails in web mail services or on iOS or Android tablets. Whenever they write an email, they can now choose to either use their own email client for simple text emails or the powerful "mailegant" text processor for structured email content. Who wouldn't prefer to read well laid-out, clearly formatted emails? Templates, intelligent widgets ("Smartlets") and cross-platform cloud syncing let people write better emails in less time, even on an iPad (feature video on YouTube). mailegant Writer uses a new approach to rich text email and has the real potential to make HTML emails popular amongst users of iOS Mail, Gmail, Yahoo Mail, Outlook.com and others.
Rich text (HTML) emails are widely used by desktop email clients and by commercial marketing emails, but they have been practically inexistent on mobile devices and extremely limited in browser email services for three reasons:

There are compatibility problems displaying HTML emails between various email systems.
None of the major email apps or email browser services today have any rich text features on mobile devices: Gmail, Yahoo Mail, Outlook.com and others can only write simple text emails, and even iOS Mail supports only bold, italic and underline. That is why formatted content is often sent as a PDF attachment.
It normally takes much longer to format emails.
iNimated.com has overcome these problems:

mailegant Writer uses unique technologies developed by commercial marketing email services and improved by iNimated.com to generate HTML email code which is always displayed correctly. This code is very different from "ordinary" HTML code generated by other HTML editors and "abused" for email. It is even optimized for email clients who only display text emails.
mailegant Writer is not "vaporware", it is already working today as a beta version. Apple just recently approved it for the iPad on its AppStore, but it is not yet released.
mailegant Writer is optimized for writing emails quickly. Tests have proven it typically takes less time to write HTML emails in mailegant Writer than to write the same text email in iOS Mail.
mailegant Writer is currently available as a beta version exclusively to the contributors of iNimated.com's Indiegogo crowdfunding campaign, who want to to support iNimated.com in its commitment to bring rich text emails to mobile people. After having self-financed the development of mailegant Writer up to now without external investors, iNimated.com needs support and participation to finish it and to bring it to the market. Have a look at the pitch video on Indiegogo which quotes the famous Mac commercial from 1984.