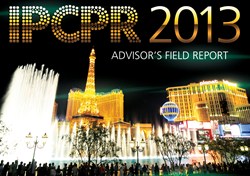 The [show] floor was bustling with excitement as the booths were rocking with retailers eager to sample this year's hottest [cigar] offerings.
Easton, PA (PRWEB) August 05, 2013
The all-new Cigar Advisor is an online cigar magazine that brings a fresh, irreverent, and down-to-earth perspective on all things cigars to thousands of smokers. In addition to educational cigar content and behind-the-scenes cigar industry articles from some of the business's top names, Cigar Advisor delivers an array of content about a variety of topics of interest to people who enjoy the cigar lifestyle. The magazine also features cigar reviews and ratings submitted by real smokers. Cigar Advisor has just published their 2013 IPCPR Field Report, a round up of new cigars and products debuting at the most recent cigar industry trade show in Las Vegas.
Cigar Advisor Magazine dispatched their editorial and multimedia teams to the Sands Convention Center in Las Vegas this past July, for the 81st gathering of the IPCPR (International Premium Cigars & Pipe Retailers) trade show. The crews were "on a mission to bring the fans who love the leaf an exclusive look at who was there, and what's new in the world of cigars - plus an up-close view at the many debut releases about to hit the shelves." In the resulting series of interviews with some of the most popular cigar manufacturers in the marketplace, Editor-at-Large Tommy Zman brings readers a first hand account of the most newsworthy products and releases in the "IPCPR 2013 Advisors Field Report."
Tommy starts his recap by observing that on the first day of the show, "the floor was bustling with excitement as the booths were rocking with retailers eager to sample this year's hottest offerings." He also noted that although there had been talk of a policy change for 2013, exclusivity was still in effect – as "the average cigar lovin' Joe is not allowed into this event."
The Cigar Advisor team spotted a few specific trends among the manufacturers that were evident at the 2013 IPCPR. According to Managing Editor John Pullo, "several companies have sourced premium tobacco from Pennsylvania to be used as both filler and wrapper…of course, back in the early days of cigar making, Pennsylvania was a huge source for tobacco in the United States; but now, a couple of centuries later, it is making its way back into the premium hand-rolled market."
Zman had some specific notes about size: "A few years ago the 6 x 60 cigar size started a new trend as smokers demanded bigger and better. This year, a plethora of companies now offer the big ring gauges, as what was labeled as a fad is now part of almost everyone's offerings. It looks as if the trend is now here to stay."
The Advisors also point out the large number of companies using small batches of harvested leaf to produce extremely limited offerings of "super-premium" cigars available in runs of only 200, 300, or 500 boxes, which may be a total of as few as 2000, 3000, or 5000 cigars. "Manufacturers told us that when they find a very limited supply of a certain leaf," writes Zman, "they feel they owe the smokers something truly unique to enjoy, even though they can only produce it in small quantities."
The magazine's editors sum up, in their experience, the "real common thread from the cigar makers" they talked to at IPCPR: "even in the face of tax hikes and anti-smoking legislation, the industry is growing - all while producing the finest cigars that anyone has ever seen. The goal, it seems, is to make better products and a stronger industry, where we cigar smokers can look forward to even greater experiences to come."
About Cigar Advisor Magazine
Cigar Advisor magazine is a digital publication created for real cigar enthusiasts who love tobacco and live the lifestyle. Cigar smokers are passionate about almost everything they do - whether it's the drinks they savor, the food they devour, the cars and motorcycles they dream of, the sports they're fanatical about or the women they love, Cigar Advisor shares those passions with a razor-sharp edge, soaking up each day and experience as if it were our last. Find that passion and more on display at CigarAdvisor.com.