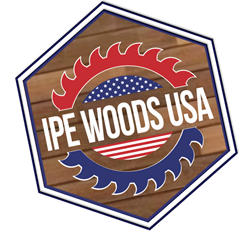 SALT LAKE CITY (PRWEB) October 22, 2020
Ipe Woods USA is a hardwood lumber supplier that distributes directly to consumers and to job-sites. Founded in the middle of 2017, Ipe Woods USA has quickly managed to become the leader in direct to consumer exotic hardwood.
Ipe Woods USA is the best source for wholesale Ipe decking. Their goal is to provide their customers with the highest quality materials used for decking, siding, fencing, or other projects that will last more than a lifetime. Ipe Woods specializes in Brazilian hardwoods, especially Ipe. Ipe is known for its superior qualities that make this type of wood to be known as the standard of hardwoods. Ipe wood is also known as "Ironwood" or "Brazilian Walnut". Ipe lumber is world-renowned as the highest quality material available for outdoor use. This is why no synthetic materials or modified woods can compare with Ipe.
At Ipe Woods USA, they understand that not everyone wants Ipe for their projects, and they are providing many other types of hardwood lumber. Customers looking for the best alternatives of Ipe can choose from over 100 species of hardwood such as Cambara, Cumaru, Garapa, Mahogany, Redwood, Teak, Tigerwood, and more. Finding the right wood can be a challenge for most people. Ipe Woods USA has experienced customer service agents that can help customers find the perfect materials they need for their projects.
Ipe Woods USA is proud to be an environmentally conscious company, buying only hardwoods that are legally sourced. Ipe Woods USA is honored to be a member of the National Hardwood Lumber Association and of the International Wood Products Association. The National Hardwood Lumber Association is the Oldest and Largest Hardwood Association bringing integrity to grading by offering third party inspection school, certification, and grading standards. The International Wood Products Association is committed to supporting the legal and sustainable harvesting of wood products from around the world.
Ipe Woods USA can deliver all of its hardwood lumber anywhere in the United States, Asia, Europe, the Middle East, and Africa directly to a home, job site, local depot, or business. The company has negotiated rates with many different carriers in order to offer its customers the best shipping prices and quick delivery of materials. Their network of shipping companies allows them to ship full containers as well as shipments that are less-than-truckload to anywhere in the world in just a few days.
Due to the ongoing Covid-19 pandemic, shipping of Ipe, Cumaru, Garapa, and Tigerwood has been affected. Even though the shipping of hardwoods has been delayed on many carriers, Ipe Woods USA would like to say that business continues as usual, shipments continue and the customers are still getting their orders in a reasonable timeframe.
About Ipe Woods USA
Ipe Woods USA is a Salt Lake City, Utah based company that specializes in Brazilian hardwood decking products such as Ipe, Garapa, Cuamru, and Tigerwood. The company was created to provide the lowest cost, highest quality Ipe wood to customers. With over 200 pick up locations in the USA, the company can provide the least expensive Ipe and shipping to customers.