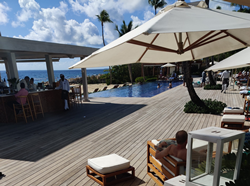 SALT LAKE CITY (PRWEB) March 04, 2020
Ipe Woods USA was founded in 2017 and since then it managed to become the leader in direct to consumer exotic hardwood. The company was named "Ipe" because the founders believe Ipe should be the first option when using lumber outdoors. The high-quality and longevity of the Ipe wood are just a few of the advantages that should make him the first choice of customers or contractors.
Ipe Woods USA is specialized in Brazilian hardwoods, and especially Ipe wood. However, in some cases Ipe will not fit in a customer's budget or for aesthetic reasons, people choose different types of wood. Anyway, contractors that really know wood should present the benefits of Ipe wood to the potential customers.
The latest product available at Ipe Woods USA is teak wood. Teak wood is extremely rare and until recently was not part of the inventory due to its sordid past that involved illegal and unethical harvesting. This type of wood is really popular and is used for different things like boats, ships, outdoor furniture, countertops, and even flooring. Many industry professionals claim that teak wood is the finest wood on the planet.
Ipe Woods USA offers the highest-quality teak wood. Teak wood is the choice made by customers that want the finest wood and the price is no problem. A single board of teak wood can cost upwards of $3,000. The teak wood is extremely oily and due to its tight and dense grain and high tensile strength, it has extreme resistance to all types of weather. For this reason, this type of wood is very popular on boats, which may encounter all kinds of extreme weather conditions.
Teak wood is also ideal for outdoor applications. Ipe has become more popular than teak wood only because it's more accessible and affordable. For many, building a deck or a fence out of teak wood is cost-prohibitive.
Ipe Woods USA provides customers with products made out of real teak. Not all teak is equal and due to the difficulties, that can appear when importing teak, some places sell "plantation" teak. This type of fake teak is nowhere near as good as natural teak. Plantation-grown teak is only 1/5 as dense as natural teak and does not last as long or stand up to the weather elements as real teak. Real teak comes primarily from Southeast Asia.
There is a lot of misinformation surrounding the wood buying industry. Many companies wrongfully claim they are the only ones that sell responsibly sourced Ipe. However, this is not true. Working with Ipe Woods USA can bring a series of advantages to the customers such as boards milled to the specification, fast shipping, high-quality wood from responsible sources, wood sold directly from a warehouse in the USA or from Brazil, friendly staff, decking that can last a lifetime, and the lowest price on the market.
Today is the ideal time to buy Ipe wood from Ipe Woods USA. Currently, the price for Ipe wood is low, but this situation will not last for long as the price is soon expected to rise. Ipe wood is ideal for decking, siding, and fencing. Also, it does not require maintenance unless the customers want to keep it dark brown.