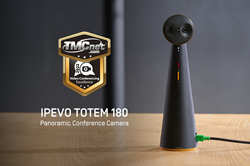 The TOTEM 180 is a testament to our commitment to providing innovative and high-quality video conferencing solutions.
SUNNYVALE, Calif. (PRWEB) February 15, 2023
IPEVO Inc. announced today that TMC, a global, integrated media company, has named IPEVO's TOTEM 180 Panoramic Conference Camera as a 2022 TMCnet Video Conferencing Excellence Award winner presented by - TMCnet.
The award honors the best and most innovative platforms offering the best experience for today's teleworkers, remote meetings & video conferences that the industry has to offer as judged by the editors of TMCnet. Each winner submitted a thorough application, nominating the selected solution.
"We are honored to receive this award from TMCnet," said IPEVO Marketing Manager, Oscar Tu. "The TOTEM 180 is a testament to our commitment to providing innovative and high-quality video conferencing solutions. We are thrilled that our efforts have been recognized and we look forward to continuing to bring new and improved products to the market."
The TOTEM 180 is a next-generation, plug-and-play video conferencing solution that delivers outstanding video quality through AI stage auto-framing and video stitching technology. The device features a 180-degree field of view with stitching technology, making it suitable for both medium conference rooms and small huddle spaces. It also includes a built-in noise-reduction microphone and speaker, making it an all-in-one solution, perfect for video conferencing.
"Recognizing leaders in the advancement of video conferencing platforms, TMC is proud to announce the IPEVO TOTEM 180 as a recipient of the 3rd Annual Video Conferencing Excellence Award," said Rich Tehrani, CEO, TMC. "IPEVO is being honored for their achievement in bringing innovation and excellence to the market, while leveraging the latest technology trends."
The 2022 TMCnet Video Conferencing Excellence Award will be highlighted on TMCnet news portal.
About IPEVO Inc.
IPEVO Inc. is a leading brand dedicated to the research and development of professional video communication products. With advanced technology and intuitive user experience design, it provides customers with solutions to improve communication efficiency.
Since its inception in 2007, IPEVO has been focusing on changing the face of video communication. Overturning the traditional overhead cameras for teaching, it redefined and designed a series of simple, lightweight, and easy-to-use document cameras and video teaching software. It further entered the field of commercial applications in 2022 by launching video collaboration products, enabling video-based teaching, learning, communication, conferencing, and creative sharing, to be as natural and unrestrained as being in-person.
For media inquiries, please contact: salesus@ipevo.com