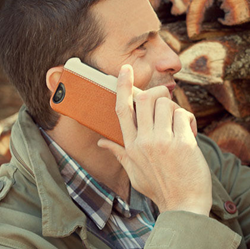 Deluxe Leather iPhone 6 Cases
Miami, FL (PRWEB) October 11, 2014
With each new generation of Apple's hallmark smartphone, comes new technological and design advancements that Vaja designers must accommodate. For the iPhone 6 and 6 Plus these include a stunningly thinner phone as well as different display sizes and overall phone size. Of course, there are the typical features that phone case designers always have to take into consideration such as control buttons, speakers and the phones' camera lens. iPhone users can rest assured that, in typical Vaja fashion, the iPhone leather cases for iPhone 6 and iPhone 6 Plus have all the essential issues factored in.
Vaja has started its latest collection with four new iPhone 6 leather cases made and crafted exclusively for this version of Apple's smartphone. For those who require a direct line of sight to their smartphone screen at all times, there are two versions of the Grip. The New Grip has been redesigned to match the iPhone 6's slimmest-ever profile while still exuding chic style. With Grip Stripes, users can outfit their smartphone in iPhone 6 covers that are multicolored works of art, still fashioned with Natural Caterina leather that is Vaja's signature, and still sporting the innovative eyelets and cutouts redesigned to correlate with the orientation of the new smartphone's buttons. With the Top Flip and Wallet Pelle designs, Vaja caters to iPhone 6 users who prefer a leather case that entirely covers their phones. These both offer screen protection when the smartphones aren't in use, and the Wallet Pelle includes interior slots, convenient for an ID and credit card, and even has a handy compartment for carrying a stash of cash.
For the larger iPhone 6 Plus, Vaja knew that viewing multimedia content would be at the top of every user's priority list. To that end, the first four new cases out of many to come for the iPhone 6 Plus are, at one side both versions of Vaja's popular Grip design. The New Grip and the Grip LP have been modified for the larger dimensions and thinner silhouette of the iPhone 6 Plus, at the other side the Agenda and Wallet Agenda cases, both versions entirely cover the iPhone 6 plus, while the Agenda has a smart magnetic closure the Wallet case includes interior slots, convenient for an ID and 4 credit card, and even has two handy compartments for carrying a stash of cash. Vaja's leather cases for iPhone 6 Plus still impress with tasteful sophistication and facilitate usability in every way.
Vaja is the designer and maker of the finest, most stylish high-quality leather covers that protect tablets, notebooks, smartphones including iPhone 6 cases, and other gadgets while retaining the functionality of the devices. Their stunning colored and hand-stitched leather cases make a distinctive statement while balancing fashion with form and function.