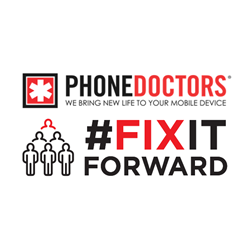 Our first two core values at PHONEDOCTORS are to 'love people,' and to 'serve the customer, not the dollar.'
Tulsa, OK (PRWEB) April 30, 2015
PHONEDOCTORS has been successfully repairing phones and tablets in the Greater Tulsa and Northwestern Arkansas communities for over 11 years. In late 2013, PHONEDOCTORS purchased the building at 1209 S. Frankfort Avenue in Downtown Tulsa. They have worked over the last year to remodel the building to serve as their corporate headquarters, national mail-in repair center, as well as the hub of their administrative support, logistics, and warehousing.
On Wednesday, May 6th, 2015, PHONEDOCTORS will host an Open House and Ribbon Cutting ceremony with the Tulsa Regional Chamber of Commerce at the new PHONEDOCTORS corporate office. The ceremony will begin at 11AM with refreshments and hors d'oeuvres available until 2PM.
At this event, PHONEDOCTORS will make the following announcements:

#FIXITFORWARD Campaign to bless the Greater Tulsa Community.
Grand Opening of #8th retail location inside Reasor's in Bixby.
Grand Opening of #9th retail location inside HQ in downtown Tulsa.
Courier service to pickup and deliver mobile devices in downtown Tulsa.
Mobile Device Buyback Advantage Service for corporations and charities.
Expansion plans for the Oklahoma City market in 2015.
The #FIXITFORWARD campaign will launch at the grand opening of the PHONEDOCTORS location inside the Bixby Reasor's Food Store at 111th Street and Memorial at 10AM on Saturday, May 9th, 2015. The first 10 people to arrive with a broken mobile device will receive a #FIXITFORWARD ticket that blesses them with a repair that day. After the repair is complete they will then "fix-it-forward" by finding someone in their Facebook & Twitter social circle to bless with their ticket for a free mobile device repair. Each of the 10 tickets are good for 10 repairs, totaling 100 free repairs. In addition to the first 10 people who are awarded a #FIXITFORWARD ticket, PHONEDOCTORS will give the next 250 people who arrive with a broken mobile phone or tablet a 50% off coupon for that repair.
"We see first-hand how mobile device repairs impact people's lives," said Alex Iser, CEO of PHONEDOCTORS. "Our first two core values at PHONEDOCTORS are to 'love people,' and to 'serve the customer, not the dollar.' We feel there is no better way to introduce ourselves to the Bixby community, and energize relationships throughout Greater Tulsa, than to express our values in this way," said Iser.
For more information about PHONEDOCTORS and #FIXITFORWARD, please visit: http://phonedoctors.com
ABOUT PHONEDOCTORS®
PHONEDOCTORS is America's most reliable and trusted mobile device repair and management company. The Tulsa-based company has been providing mobile phone and tablet repair since 2004 with local retail and online stores. Retail stores are located in Tulsa, Fayetteville, Fort Smith, and Los Angeles, CA. along with 3 locations conveniently located within Reasor's Food Stores at 111th and Memorial in Bixby, 116th Street North in Owasso, and at 21st and Yale in Tulsa, Oklahoma. For more information, please visit: http://phonedoctors.com