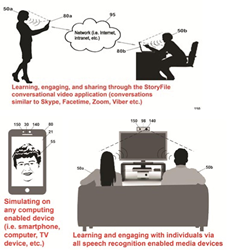 StoryFile's innovative and proprietary technology allows people to engage and connect on a personal level and in a way that puts the powers in the hand of the storyteller, literally.
SUFFERN, N.Y. (PRWEB) September 10, 2020
StoryFile, LLC has acquired a patent portfolio that complements their existing technology which creates conversational video interactions between individuals across time and space. The portfolio includes U.S. Patent Nos. 9,582,762 and 10,579,921 for "Devices, systems, and methods for learning and using artificially intelligent interactive memories" and two continuation patent applications.
StoryFile's mobile native cloud-based automatic AI-driven interactive conversational video platform has propelled StoryFile to reach new frontiers in the technology and AI landscape. StoryFile is changing the way people record, preserve, curate and access their personal life history and stories. Individuals can create StoryFiles and use StoryFile's technology platform to interact and communicate with people from around the world. The user-led, voice activated conversational video technology leverages AI to enhance a natural conversation with the video captured on any device with a camera. Users can speak to people ranging from great grandparents to thought leaders, noble laureates, astronauts and beyond. StoryFile enables users to have engaging and intimate conversatinos through the company's proprietary technology platform Conversa, which allows individuals to authentically record, preserve, and share their stories and experiences through an innovative mobile legacy capture system. StoryFile provides individuals and families with an opportunity to curate their own lives and preserve their history and legacy on any device connected to the internet. StoryFile recently released a new beta-version of the StoryFile App available now on the IOS App Store. Users from around the world can now engage with StoryFiles and record their own interactive story online. StoryFile will be releasing StoryFile Life in early 2021 to allow users to create their own full length legacy StoryFiles using their own phones or computers to record their interactive life history. Future updates to follow.
"This portfolio will enable StoryFile to expand into the mass consumer market of users of video chat applications such as Skype, FaceTime, and Viber and personal assistants such as Echo/Alexa, Apple HomePod, Google Home, Siri, and Cortana, putting StoryFile on the radar screen of the largest tech companies," according to Jay Cosic, inventor of the patent portfolio. Mr. Cosic is a named inventor on over 60 U.S. patents and applications, and CEO of AwareGen, a company that focuses on inventing foundational breakthrough technologies in the areas of Artificial Intelligence, video, and VR/AR/MR. AwareGen's most advanced technologies include pre-requisites for machine self-awareness and consciousness in several pending patent applications, and development of actual machine self-awareness and consciousness.
The portfolio was represented by IPOfferings LLC, a leading patent broker and provider of patent valuation, patent infringement, and IP consulting services. "When brokering a portfolio," says Alec Schibanoff, Vice President of IPOfferings, "you sometimes find a company that is just the perfect fit, and that is certainly the case with the acquisition by StoryFile of this incredibly dynamic portfolio."
"We are thrilled to add this AI patent portfolio to StoryFile's technology platform, as it complements our interactive capabilities for the preservation of people's life stories. StoryFile's innovative and proprietary technology allows consumers to engage with and connect to people around the world on a personal level. StoryFile puts the power in the hand of the storyteller, literally." said StoryFile CEO Heather Smith. She continued, "StoryFile is ushering in a new era of storytelling, preserving history, and creating new connections among people. We look forward to sharing news of our achievements and future updates, as we continue to make StoryFile accessible globally."
Terms of the transaction are confidential.
For more information, IPOfferings can be reached at news@IPOfferings.com or 845-337-6911.