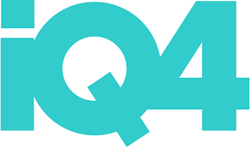 "We are hoping students will take advantage of working with a virtual internship so that they are ready to enter the workforce and to gain valuable real-world expertise," said Frank Cicio, founder and CEO, iQ4.
NEW YORK (PRWEB) March 27, 2020
iQ4 Corporation, a centralized platform, which helps students, academia, business and government collaborate to transform and scale the workforce of the future, announced today that it is offering schools free access to its virtual apprenticeship program from now through Sept. 2020, during the COVID-19 global health crisis.
iQ4 will provide schools with free access to its suite of apprenticeship tools, course offerings and its mentorship program. The goal is to target 10,000 high school and college students across the country to provide virtual internships and prepare students for the world of work. Specifically, the virtual apprenticeships will be offered in areas of cybersecurity, data science, cloud and SaaS programs, blockchain and healthcare.
The spring is the busiest time of the school year where thousands of college students search for summer internships and jobs. While thousands of college students are in search, companies are also in search of qualified and skilled workers. This year is different with COVID-19 forcing schools to close and online learning to take place. Students will no longer have the opportunity to apply for and or take part in traditional summer internships, and many businesses have come to a standstill.
"We are living in interesting times where many students will no longer be able to physically go into a company or office to complete an internship," said Frank Cicio, founder and CEO of iQ4 Corp. "The virtual apprenticeship programs will support the future of talent with a new approach to online applied learning. Whether a student needs to finish a capstone course, internship, or fieldwork, students are being given the opportunity to complete their online learning utilizing iQ4 because we can bring industry directly to the students, in a fully online experience."
Students will work on real-world cases in job roles, collaborating in teams and guided by recognized executives from companies such as the Federal Research Bank, American Express, Citizens Bank, Santander Bank, T-Mobile, Bank Mellon and Microsoft...just to name a few
For high school students, the virtual apprenticeship experience will give them the experience to add to their resume or portfolio as they prepare for college. For college students, access to the program will give them the opportunity to get real-world experience and network with leading industry companies, with prospective entree into the field—all virtually.
iQ4's mission is to lead and create a pathway for students to become qualified and skilled cybersecurity experts of the future. It will also allow businesses to continue to find and build a next generation talent pipeline, despite the potential long term social distancing protocols in place.
"When we created this program last fall, it was designed to massively scale workforce preparedness using iQ4's workforce development platform, content and model designed for all stakeholders," said Cicio. "Hundreds of students have already been able to obtain real-world experiences that have qualified them to be able to enter the cyber security workforce. We are hoping students will take advantage of working with a virtual internship so that they are ready to enter the workforce and to gain valuable real-world expertise."
In 2015, iQ4 formed the Cybersecurity Workforce Alliance, (CWA) an industry driven open source division, to develop and deliver the role taxonomies, project content, and subject matter expertise (mentors) need to develop the next generation workforce now over two thousand members. The virtual apprenticeship connects universities with private sector organizations that sponsor, train and can provide thousands of cybersecurity apprenticeships. This organization was formed in collaboration with NICE Skills taxonomy framework and with the Department of commerce and the Department of Homeland Security.
The virtual apprenticeship was originally created to address the cybersecurity and technology skills gap by scaling the student and professional workforce to provide immediate value to private sector employees. Students will emerge from the program with industry credentials using an applied learning curriculum that allows them to develop skills in cyber security and risk. The iQ4 virtual apprenticeship will also dramatically reduce the cost of corporate training for new college hires.
iQ4 will help enable employers to identify and train their future cybersecurity workforce with the digital, scalable apprenticeship programs. The program combines technology with industry-driven standards from the National Institute of Standards and Technology (NIST) framework, and content and is led by industry experts.
For more information on iQ4's virtual apprenticeship program, please read our previous press release on the launch of the program https://bit.ly/2wHL2sL or visit our website at http://www.iQ4.com
About iQ4
iQ4 is a workforce and mobility platform, which enables applied learning through the strategic collaboration between students, academia, and the business world. The acquisition of skills during the mentoring program empowers students with pertinent knowledge for future prospects. Companies are able to develop the next-generation workforce in accordance with the demands of the market. iQ4 facilitates the creation of a competent workforce by uniting the independent initiatives of industry and academia.