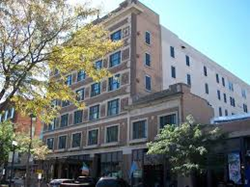 We are very excited to be in a position to expand our South Dakota office at one of the premier office buildings in downtown Sioux Falls
SIOUX FALLS, S.D. (PRWEB) November 07, 2018
IRA Financial Trust the leading providers of self-directed IRA LLC and Solo 401(k) Plans, is excited to announce an expansion of its Sioux Falls, South Dakota office at the iconic Carpenter Building located in the heart of downtown Sioux Falls. IRA Financial Trust has experienced a surge in demand for its self-directed IRA products over the last year, especially from real estate and cryptocurrency investors. "We are very excited to be in a position to expand our South Dakota office at one of the premier office buildings in downtown Sioux Falls," stated Adam Bergman, President of the IRA Financial Trust Company.
The Carpenter Building is a truly a gem in the heart of our downtown. Located on Phillips Avenue between 9th and 10th, this block is where it all happens: bars, restaurants, boutiques and more.
According to Mr. Bergman, the demand from retirement account investors for self-directed IRA & solo 401(k) plans have exploded over the last few years and our expanded office will help us more efficiently services our growing client base.
The IRA Financial Trust Company, a self-directed retirement account custodian, was founded by Adam Bergman, a leading voice in the self-directed retirement community. Mr. Bergman is a leading expert on the taxation of retirement funds and has authored seven books and multiples articles on self-directed retirement plans.
IRA Financial Trust Company's self-directed retirement platform allows clients to invest in IRS approved alternative asset investments, such as real estate, cryptocurrencies, and much more for as little as a few hundred dollars a year and with no account valuation fees
To learn more about the IRA Financial Trust Company please visit our website at http://www.irafinancialgroup.com or call 800-472-1043.