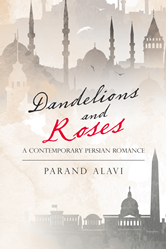 'Dandelions and Roses' expresses that the power of wrath and courage can be stronger than terror, which is equally exhibited through the women and men in the book, said Alavi
GREAT FALLS, Va. (PRWEB) January 10, 2020
Author and Doctor Parand Alavi's "Dandelions and Roses: A Contemporary Persian Romance" follows the story of a highly respected Kurdish family of low income living in Iraq during the horrendous rebellion. Alavi's book introduces a family of four: Ameneh, Rozhan, Usman and Omar, who undergoes brutal acts of violence that changes the paths of their lives forever.
Throughout the book, readers will get a glimpse into how a family must survive physically and emotionally after the effects of terrorism. The author tells the story of the eternal love a mother has for her children who is portrayed by heroic Ameneh and how she will stop for nothing to help her family. Alavi also illustrates the devastating acts of violence and tough cultural transition depicted through Ameneh's daughter, Rozhan, that leads her to a romance of a lifetime. Readers will be a part of Rozhan's journey to recovery through her evolving memory of violation and ever-present fixation with shame and revenge. Rozhan goes through heart wrenching hardships that eventually bring her to the man who will do whatever it takes to seek justice for her and her family.
"'Dandelions and Roses' expresses that the power of wrath and courage can be stronger than terror, which is equally exhibited through the women and men in the book," said Alavi. "Readers will experience the effects of terrorism on individuals and the struggles they endure to emotionally survive."
The novel portrays the political and familial circumstances victims are facing in Iraq and that love can rise from unfortunate circumstances. This captivating story will keep readers engaged as it highlights a courageous family and the love that they have for one another.
"Dandelions and Roses: A Contemporary Persian Romance"
By Parand Alavi
ISBN: 978-1-4834-8374-0 (softcover); 978-1-4834-8375-7 (eBook)
Available through Amazon, Barnes & Noble and LULU
About the author
Doctor Parand Alavi was born in Iran and went to medical school in France and the United States. In 2002, Doctor Alavi began painting as a hobby. Her subjects most often dealt with Kurdish women dressed in traditional colorful garments. However, after 10 years of well received visual art, writing came easier. Her first five Persian novels, "The Empty Balloon," "Mirage of Freedom," "Broken Mast," "Two Straw: An Autobiography" and "Dandelions and Roses" are widely popular in Iran. "Dandelions and Roses" is her first book to be translated in English.
For general inquiries, interview & review copy requests contact:
LAVIDGE – Phoenix
gbywater(at)lavidge(dot)com