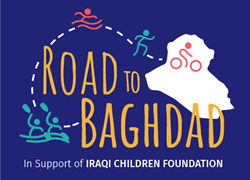 We are on a mission to help Iraqi children and their families during this COVID crisis.
WASHINGTON (PRWEB) September 30, 2020
On October 1st, the Iraqi Children Foundation (ICF) will launch the "Road to Baghdad," an inaugural virtual mission to travel the 6,202 miles between Washington, DC and Baghdad, Iraq, in support of Iraq's orphans and most vulnerable children during COVID. Participants from all over the world can join the cause and "travel" by logging daily activity from running, walking, cycling, swimming, all the way through to dancing or housework.
"We are on a mission to help Iraqi children and their families during this COVID crisis," said ICF Chairman Mohammed Khudairi. "In mid-March, schools in Baghdad closed. We had to close our two Hope Buses temporarily which meant kids could no longer come to class or get a nutritious meal. The city went into lockdown several times, and economic hardships led to some kids returning to the street and an increased risk of child abuse in the home."
Each year, ICF's "In Their Shoes" race in the USA draws dignitaries, diplomats, veterans, business people, families and the media. This year, due to COVID, ICF is doing things a little differently. "By moving to a virtual event, we can have supporters join us safely from all over the world – allowing us to raise awareness for ICF like never before," Khudairi added.
To join the virtual mission:

Register @ My Virtual Mission: Create an account, and click join the mission for Road to Baghdad.
Track your miles: enter them manually via the My Virtual Mission website or download the app and pair with phone, smart watch, Fitbit, or other devices.
Registration fee is $25 USD. Everyone receives a digital certificate at race end. Travel over 10 miles and also receive an ICF custom running buff (gaiter).
Support Iraqi children by donating or creating your own fundraiser.
For more information: watch a short video introduction and read about ICF's life-changing work.
Follow Road to Baghdad: Instagram/Twitter: @iraqichildren, Facebook/LinkedIn: Iraqi Children Foundation, Hashtag: #roadtobaghdad
__________
About ICF
ICF, the USA's largest charity devoted exclusively to Iraqi orphans and vulnerable children, is a non-partisan, non-sectarian, tax-exempt 501(c)(3) charity, rated Platinum on Guidestar and listed with the U.S. government's Combined Federal Campaign (#95191).