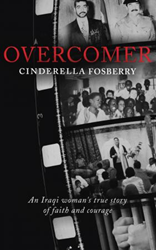 Overcomer will inspire and encourage readers in their personal walks with God
HAYWARD, Calif. (PRWEB) July 28, 2018
Within the pages of Cinderella Fosberry's book, Overcomer ($13.49, paperback, 9781545635360; $21.99, hardcover, 9781545637036; $6.99, e-book, 9781545635377), readers will find the true story of an Iraqi Christian woman who lived through dark times of war. Fosberry shares her testimony and stories of God's love, healing, redemption, power and glory.
Most of the stories Fosberry shares in the book took place in Iraq. What she shares goes beyond the news, as she peels back the layers of war and shares what the Lord is doing in Iraq, a side that the news does not often report.
Always feeling led by God to witness to others, especially in the Middle East, Fosberry shares her miraculous story of witnessing to one of Sadaam Hussein's sons while he lay in a hospital bed.
Overcomer will inspire and encourage readers in their personal walks with God. "He's alive and He's with them," Fosberry said. "He will be glorified in everything they go through, helping them to overcome all obstacles and accomplish all that [He] has called them to do."
Cinderella Fosberry started following the Lord when she was a little girl in Iraq. She became involved in ministry full-time, traveling through the Middle East, sharing the gospel with orphans and refugees. She now speaks in the United States in churches, ladies' conferences, and missions.
Xulon Press, a division of Salem Media Group, is the world's largest Christian self-publisher, with more than 12,000 titles published to date. Overcomer is available online through xulonpress.com/bookstore, amazon.com, and barnesandnoble.com.