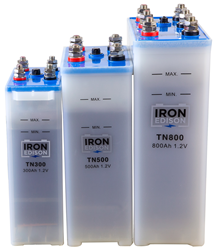 The Home Power article astutely notes that Lithium Iron batteries "don't gas, are extremely stable, and can handle high charge/discharge rates," and praises Nickel Iron batteries' "exceptional durability and longevity."
Denver, Colo. (PRWEB) May 30, 2017
Iron Edison's Nickel Iron (NiFe) and Lithium Iron Phosphate (LiFePO4) batteries were recently featured in the May/June issue of Home Power.
The feature came in the "Home Battery Primer" cover story, which discusses a variety of different battery chemistries, as well as the pros and cons of each one.
Pictures of the stately Iron Edison 48 volt 18.7 kilowatt-hour LiFePO4 battery and the Iron Edison 300, 500 and 800 Amp-hour NiFe cells can be seen in the "Lithium Batteries" and "Nickel-Iron Batteries" sections, respectively.
The article details the advantages of both battery chemistries, astutely noting that Lithium Iron batteries "don't gas, are extremely stable, and can handle high charge/discharge rates," as well as praising Nickel Iron batteries' "exceptional durability and longevity." The Iron Edison versions of these battery chemistries back up each of these claims, and then some.
Calling energy storage "the missing link" in the mainstream adoption of renewable energy, the article is a great resource for anyone curious about embarking on a renewable energy project and looking for some introductory battery basics.
The story even has a section on the "Anatomy of a Battery," briefly explaining the various components of a battery including the terminals, cathodes and anodes, and the flow of ions through each part.
Launched in 1987, Home Power has become a major hub for renewable energy information, allowing industry innovators, technical professionals, and interested homeowners to share experiences on a myriad of different topics.
The article can be viewed online, with pictures of the Iron Edison batteries shown at the top of the page, by clicking here.
Based in Denver, Colo., Iron Edison Battery Company offers Nickel Iron and Lithium Iron batteries for solar energy storage, as well as complete system design services and technical support for its customers. Both its Nickel Iron and Lithium Iron batteries are longer-lasting, more durable alternatives to outdated lead acid batteries.
Iron Edison is dedicated to educating people on the benefits of advanced energy storage technology. For more information, contact Iron Edison at (720) 432-6433 or at info(at)ironedison(dot)com.