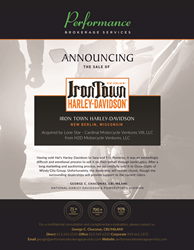 "Having sold Hal's Harley-Davidson to Sara and Eric Pomeroy, it was an exceedingly difficult and emotional process to sell it on their behalf through bankruptcy. "
IRVINE, Calif. (PRWEB) July 16, 2020
Performance Brokerage Services, a new car and Harley-Davidson dealership broker announces the sale of Iron Town Harley-Davidson in New Berlin, Wisconsin from H2D Motorcycle Ventures, LLC to Lone Star – Cardinal Motorcycle Ventures VIII, LLC. ) The dealership known as Hal's Harley-Davidson was family owned for over 40 years when it was purchased by Sara and Eric Pomeroy in 2016. The dealership was renamed to Iron Town Harley-Davidson after a naming raffle by the employees of the newly acquired dealership.
Over the last 5 years, Performance Brokerage Services has represented for sale over 250 automotive and motorcycle dealerships making it the highest volume automotive and motorcycle dealership brokerage firm in North America. George C. Chaconas, the exclusive agent for this transaction and the head of the National Harley-Davidson and Powersports Division for Performance Brokerage Services commented, "Having sold Hal's Harley-Davidson to Sara and Eric Pomeroy, it was an exceedingly difficult and emotional process to sell it on their behalf through bankruptcy. After a long marketing and auctioning process, we successfully sold it to Ozzie Giglio of Windy City Group. Unfortunately, the dealership will remain closed. The surrounding dealerships will provide support to the current riders."
Buyer, Ozzie Giglio is a seasoned dealer owning fourteen stores throughout Illinois and Wisconsin.
The dealership will continue to remain closed.
The buyer in the transaction was represented by Stephen E. Ryd of Ryd Law.
The seller in the transaction was represented by Jonathan S. Pasternak and Robert L. Rattet of DHC Legal.
About Performance Brokerage Services
Performance Brokerage Services, an auto dealership broker, specializes in professional intermediary services to buyers and sellers of automotive, commercial truck, Harley-Davidson and Powersports dealerships.
The company offers a different approach by providing complimentary dealership assessments, no upfront fees, no reimbursement of costs and is paid a success fee only. Performance Brokerage Services gets paid only after the client gets paid.
With nearly 30 years of dealership brokerage experience, the company utilizes an extensive network of industry related accountants, attorneys, hundreds of registered buyers and enjoys longstanding relationships with most of the auto manufacturers. The intermediaries at Performance Brokerage Services have been involved in well over 700 transactions. Pledging loyal and unwavering representation, confidentiality is vigilantly protected during the selling process and after the transaction closes.
With corporate offices in Irvine, California, 5 regional offices in Utah, Florida, Texas, Virginia and New Jersey, a dedicated Harley-Davidson and Powersports Division, and a dedicated Commercial Truck Division, Performance Brokerage Services provides its clients national exposure with local representation. For more information about the services offered by Performance Brokerage Services, visit https://performancebrokerageservices.com.