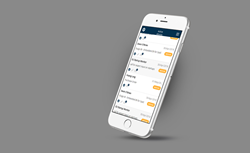 "By making our platform accessible on mobile devices, we're continuing to alleviate the time burdens on SOC and IT security teams by empowering them to identify and remediate threats immediately at the click of a button."
TEL AVIV, Israel (PRWEB) February 12, 2019
IRONSCALES, the world's first automated phishing prevention, detection and response platform, today announced that its AI Powered anti phishing threat protection platform is now available on mobile devices through Android and iOS apps. A first for the email security industry, the IRONSCALES mobile apps will enable security analysts to access the platform's incident response center while on-the-go, providing unprecedented access to make time-sensitive decisions on phishing mitigation and resolve incidents immediately with one click. The app release is the latest example of IRONSCALES leading the email security industry in innovation. Late last year, the company unveiled the industry's first AI-driven virtual security analyst and a unique cloud-based malware detection module for emails that bypass secure email gateways.
To reduce organizational risk, the time from phishing threat identification to remediation is of the essence. As such, the IRONSCALES app empowers security teams to expedite investigations and prompt the appropriate response. Benefits include:

Push notifications on user reports and newly detected threats to mobile devices in real-time
Help security teams make mission critical decisions on new threats in real-time using Themis, our AI virtual SOC Analyst
Resolution of incidents on-the-go via one click to help save time for SOC and IT security teams
IRONSCALES customers can download the app via the platform or on the Google and Android App stores.
"When it comes to preventing email phishing attacks, it's a race against time since the median period to click on a malicious email is less than two minutes, which is a slim window of time for something so simple as an email to cause catastrophic harm to your organization, "said Eyal Benishti, IRONSCALES' founder and CEO. "By making our platform accessible on mobile devices, we're continuing to alleviate the time burdens on SOC and IT security teams by empowering them to identify and remediate threats immediately at the click of a button - to classify and eradicate phishing attacks faster and more efficiently than ever before, helping them to beat the clock."
The IRONSCALES platform was specifically built to automatically prevent, detect and respond to sophisticated spear-phishing attacks that can now easily evade secure email gateways and other legacy email security tools. IRONSCALES combines micro-learning phishing simulation and awareness training (IronSchool), advanced mailbox-level anomaly detection (IronSights) and real-time defense from zero-day malware and phishing attacks (IronShield), with automated phishing forensics & incident response (IronTraps), real-time automated actionable intelligence sharing (Federation) and AI-driven virtual security that can predict with high confidence the legitimacy of any suspicious email (Themis). By providing protection at every stage of an email phishing attack, IRONSCALES' customers reduce the time from email phishing attack discovery to enterprise-wide remediation from hours or days to just seconds or minutes, with little to no security team involvement.
For more information on IRONSCALES, and on forthcoming product updates, visit http://www.ironscales.com and signup for our newsletter. To learn why a 3-pronged approach to email security is needed today, download this Aberdeen Report white paper using IRONSCALES data here.
About IRONSCALES
IRONSCALES is the leader in anti-email phishing technologies. Using a multi-layered and automated approach starting at the mailbox-level to prevent, detect and respond to today's sophisticated email phishing attacks, IRONSCALES expedites the time from phishing attack discovery to enterprise-wide remediation, reducing the time from detection to response from hours or days to just seconds or minutes, by significantly reducing the workload on incident responders. Headquartered in Tel Aviv, Israel, IRONSCALES was founded by a team of security researchers, IT and penetration testing experts, as well as specialists in the field of effective interactive training, in response to the phishing epidemic that today costs companies millions of dollars annually. It was incubated at the 8200 EISP, the top program for cyber security ventures, founded by alumni of the Israel Defense Forces' elite Intelligence Technology unit.