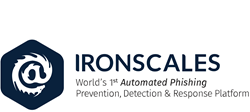 By partnering with BDO MDR, we're positively impacting their team's ability to service customers by empowering their customers with email security that automatically identifies and remediates phishing threats in real-time 24/7/365.
TEL AVIV, Israel (PRWEB) May 23, 2019
IRONSCALES, the world's first automated phishing prevention, detection and response platform, today announced that it has entered into a new strategic partnership with BDO Managed Detection and Response (MDR), one of the world's most advanced managed detection and response centers. Through the partnership, BDO MDR can now provide its customers with the time-saving and risk reducing benefits of managed phishing detection and response (MP-DR), including 24/7/365 threat detection, automated and rapid response and intelligence sharing. Collaboration with IRONSCALES will also enable BDO MDR to reduce the burden on its Security Operations Center (SOC) team by eliminating the need for analysts to manually investigate, analyze and remediate every suspicious message reported by its customers, thereby significantly reducing the mean time to respond (MTTR) to both phishing and other cybersecurity incidents.
"The email phishing epidemic is so expansive that even the world's largest MSPs are struggling to address all of their customers reported incidents expeditiously," said Eyal Benishti, IRONSCALES founder and CEO. "By partnering with BDO MDR, we're positively impacting their team's ability to service customers by empowering their customers with email security that automatically identifies and remediates phishing threats in real-time 24/7/365."
The joint IRONSCALES-BDO IT Solution will include:
1. Automatic + Managed Phishing Incident Response
2. Inbound Malware Protection (Credential Theft, Links & Attachments)
3. Business email compromise (BEC) protection
By partnering with IRONSCALES, BDO MDR customers will receive the following benefits:
1. A full restful application programming interface (API) and unified dashboard to automate and orchestrate phishing email response
2. Reduce the mean time to respond (MTTR) using a managed SOC
3. Ability to report phishing 24x7 to BDO SOC team
4. Real-time global SOC intelligence to stop trending attacks
5. Account management from a single unified dashboard with a 10-minute setup on Office365 and Google G-Suite
"Many of our customers struggle with the influx of increasingly complex phishing attacks, and until now, our SOC team manually responded to most of them," said Dori Fisher, Head of BDO MDR services. "By partnering with IRONSCALES, our customers can now benefit from the dynamic combination of automatic detection and response and best of breed security personnel acting as an addition or extension to their security team."
IRONSCALES multi-layered advanced phishing threat protection platform combines technical controls to block as many phishing attacks as possible and end-user controls to help users detect more sophisticated attacks at the mailbox-level, while incorporating employees as part of the defense strategy to detect what is missed by technology. Its adaptive platform uniquely combines human intelligence with machine learning and AI to automatically prevent, detect and respond to advanced email threats and predict future attacks, so if one control fails, there are others to compensate while maintaining an adaptive security architecture.
For more information about IRONSCALES partnerships and channel program, please visit: https://ironscales.com/partner/. To learn more about IRONSCALES, visit http://www.ironscales.com and follow @IRONSCALES.
About IRONSCALES
IRONSCALES is the leader in anti-email phishing technologies. Using a multi-layered and automated approach starting at the mailbox-level to prevent, detect and respond to today's sophisticated email phishing attacks, IRONSCALES expedites the time from phishing attack discovery to enterprise-wide remediation, reducing the time from detection to response from hours or days to just seconds or minutes, by significantly reducing the workload on incident responders. Headquartered in Tel Aviv, Israel, IRONSCALES was founded by a team of security researchers, IT and penetration testing experts, as well as specialists in the field of effective interactive training, in response to the phishing epidemic that today costs companies millions of dollars annually. It was incubated at the 8200 EISP, the top program for cyber security ventures, founded by alumni of the Israel Defense Forces' elite Intelligence Technology unit.
About BDO MDR
BDO MDR is a part of BDO worldwide cyber security services. BDO MDR utilizes advanced technologies with established processes and qualified personnel to detect and timely respond. BDO is an international network of public accounting, tax and advisory firms which perform professional services under the name of BDO. BDO firms provide professional services in 164 countries, with 80,000+ people working out of 1,591 offices worldwide.