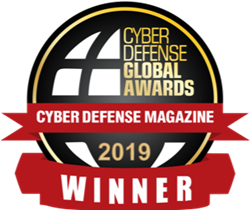 We are honored that Cyber Defense Magazine recognizes our efforts to pioneer the type of next generation anti-phishing technology essential to not just reduce risk but also to make the lives of security pros more manageable.
TEL AVIV, Israel (PRWEB) October 22, 2019
IRONSCALES, the world's first automated phishing prevention, detection and response platform, today announced that it has won Cyber Defense Global Award's Next Gen Award for Best Anti-Phishing Security Solution from Cyber Defense Magazine, the industry's leading electronic information security magazine. Leading the charge in email security, IRONSCALES was chosen out of 3,000 cybersecurity companies as a globally recognized information security leader by a panel of independent information security experts after months of review.
"With cybercrime heading into the tens of billions of records stolen and potentially trillions of dollars in damages, we are proud to recognize IRONSCALES as an award-winning innovator that offers a new approach to defeat these criminals," said Pierlugi Paganini, editor-in-chief, Cyber Defense Magazine.
This award continues a legacy of recognition from Cyber Defense. Last year, the publication named IRONSCALES's autonomous SOC, Themis, the Most Innovative Anti-Phishing Solution.
"As the email threat landscape becomes more sophisticated, our mission is to keep SOC and IT security teams two steps ahead of attackers while reducing the current burdens imposed on them by manual incident investigation and response," said Eyal Benishti, CEO and founder of IRONSCALES. "We are honored that Cyber Defense Magazine recognizes our efforts to pioneer the type of next generation anti-phishing technology essential to reduce risk while making the lives of security pros more manageable and less stressful."
To help solve the phishing epidemic, IRONSCALES helps where e-mail security hurts the most, in the inbox with post-message delivery, detection and remediation. Through a self-learning platform that provides for fast, easy and seamless collaboration, IRONSCALES puts its customers on offense, empowering them to defend against sophisticated email attack techniques automatically in a proactive and predictive manner. Using a decentralized approach to threat intelligence sharing, IRONSCALES makes anti-phishing effortless and seamless for both security professionals and end users. Additionally, IRONSCALES is the only email security provider to offer mobile applications for iOS and Android, enabling security analysts to access the platform's incident response center while on the go, providing unprecedented access to make time-sensitive decisions on phishing mitigation and resolve incidents immediately with one click.
Earlier this year, the company also won Gold for automation in email security at the 15th Annual 2019 Info Security Product Guide's Global Excellence Awards® and was named the Enterprise Email Security Solution of the Year by the Cybersecurity Breakthrough Awards in 2018.
For more information about IRONSCALES, visit http://www.ironscales.com and follow @ironscales on Twitter and LinkedIn.
About IRONSCALES
IRONSCALES is the leader in anti-email phishing technologies. Using a multi-layered and automated approach to prevent, detect and respond to today's sophisticated email phishing attacks, IRONSCALES expedites the time from phishing attack discovery to enterprise-wide remediation from months to seconds, by significantly reducing the workload on incident responders. With headquarters in Tel Aviv and Atlanta, IRONSCALES was founded by a team of security researchers, IT and penetration testing experts, as well as specialists in the field of effective interactive training, in response to the phishing epidemic that today costs companies millions of dollars annually. It was incubated at the 8200 EISP, the top program for cyber security ventures, founded by alumni of the Israel Defense Forces' elite Intelligence Technology unit.
About Cyber Defense Global Awards
This is Cyber Defense Magazine's seventh year of honoring InfoSec innovators from around the globe. Our submission requirements are for any startup, early stage, later stage or public companies in the INFORMATION SECURITY (INFOSEC) space who believe they have a unique and compelling value proposition for their product or service. In this program, we are particularly interested in highlighting cybersecurity companies who have a presence outside of the USA and/or a more global focus. Learn more at http://www.cyberdefenseawards.com.
About Cyber Defense Magazine
With over 2 Million annual readers and growing, and over 8,000 pages of searchable online infosec content, Cyber Defense Magazine is the premier source of IT Security information. We are managed and published by and for ethical, honest, passionate information security professionals. Our mission is to share cutting-edge knowledge, real-world stories and awards on the best ideas, products and services in the information technology industry. We deliver electronic magazines every month online for free, and limited special editions exclusively for the RSA Conference USA, Black Hat USA and IPEXPO Europe. CDM is a proud member of the Cyber Defense Media Group. Learn more about us at http://www.cyberdefensemagazine.com and visit http://www.cyberdefensetv.com and http://www.cyberdefenseradio.com to see and hear some of the most informative interviews of many of these winning company executives.