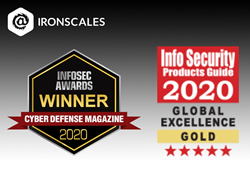 IRONSCALES embodies three major features the judges look for to become winners: understanding tomorrow's threats, today, providing a cost-effective solution and innovating in unexpected ways that can help stop the next breach.
TEL AVIV, Israel and ATLANTA (PRWEB) March 03, 2020
IRONSCALES, the pioneer of self-learning email security, today announced that is has won Cyber Defense Magazine's Infosec Award in the category of Most Innovative Artificial Intelligence and Machine Learning application. In addition, IRONSCALES also revealed today that it has won two 'Gold' awards from the Info Security Products Guide Global Excellence Awards in the categories of Artificial Intelligence in Security and Incident Analysis & Response. These awards continue momentum form 2019 in which IRONSCALES won a total of six awards, including the distinction as the Best Anti-Phishing Security Solution and Innovation in Email Security.
"IRONSCALES philosophy has always been that in order to make a dent in what has become the global phishing epidemic, real-time human intelligence combined with technology that leverages artificial intelligence and machine learning is required to protect against the rapid scale of new phishing attacks," said Eyal Benishti, IRONSCALES founder and CEO. "Our team has worked tirelessly to build an email security platform that is both seamless to use yet incredibly powerful and effective. I thank the judges for recognizing our intuition and technological achievements, our thousands of customers for believing in our product and of course our dedicated team for pushing the limits to build the anti-phishing solution of tomorrow, today."
The Cyber Defense Magazine Infosec Awards are judged by CISSP, FMDHS, CEH, certified security professionals who vote based on their independent review of the company submitted materials on the website of each submission including but not limited to data sheets, white papers, product literature and other market variables. The publication prides itself on having a flexible philosophy to find more innovative players with new and unique technologies, than the one with the most customers or money in the bank.
Additionally, the Info Security Products Guide Global Excellence Awards recognize cybersecurity and information technology vendors with advanced, ground-breaking products, solutions, and services that are helping set the bar higher for others in all areas of security and technologies. More than 35 judges from around the world representing a wide spectrum of industry experts participated in the judging process.
"IRONSCALES embodies three major features the judges look for to become winners: understanding tomorrow's threats, today, providing a cost-effective solution and innovating in unexpected ways that can help stop the next breach," said Gary S. Miliefsky, Publisher of Cyber Defense Magazine.
To help solve the phishing epidemic, IRONSCALES helps where e-mail security hurts the most, in the inbox with post-message delivery, detection and remediation. Through a self-learning platform that provides for fast, easy and seamless collaboration, IRONSCALES puts its customers on offense, empowering them to defend against sophisticated email attack techniques automatically in a proactive and predictive manner. Using a democratized approach to threat intelligence sharing, IRONSCALES makes anti-phishing effortless and seamless for both security professionals and end users. Additionally, IRONSCALES is the only email security provider to offer mobile applications for iOS and Android, enabling security analysts to access the platform's incident response center while on the go, providing unprecedented access to make time-sensitive decisions on phishing mitigation and resolve incidents immediately with one click.
For more information on IRONSCALES, visit http://www.ironscales.com and follow @ironscales on Twitter and LinkedIn.
About IRONSCALES
IRONSCALES is the future of phishing protection, incubated inside the world's top venture program for cybersecurity and founded by alumni of the Israeli Defense Forces' elite Intelligence Technology unit. We offer security professionals and end users an AI-driven, self-learning email security platform that provides a comprehensive solution to stop tomorrow's phishing attacks today. Using the world's most decentralized threat protection network, our platform accelerates the prevention, detection and remediation of phishing attacks already inside your email with threat removal times in seconds, not minutes or hours. We give organizations of all sizes complete anti-phishing protection against any type of phishing attack, right now. Visit http://www.ironscales.com to learn more about The Power of Now.
About CDM InfoSec Awards
This is Cyber Defense Magazine's eighth year of honoring InfoSec innovators. Our submission requirements are for any startup, early stage, later stage or public companies in the INFORMATION SECURITY (INFOSEC) space who believe they have a unique and compelling value proposition for their product or service. Learn more at http://www.cyberdefenseawards.com.
About Info Security PG's Global Excellence Awards
Info Security Products Guide sponsors the Global Excellence Awards and plays a vital role in keeping end-users informed of the choices they can make when it comes to protecting their digital resources and assets. It is written expressly for those who are adamant on staying informed of security threats and the preventive measure they can take. You will discover a wealth of information in this guide including tomorrow's technology today, best deployment scenarios, people and technologies shaping cyber security and industry predictions & directions that facilitate in making the most pertinent security decisions. Visit http://www.infosecurityproductsguide.com for the complete list of winners.