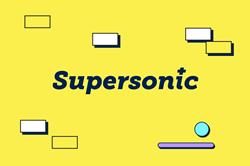 Our goal at Supersonic is to partner with developers for long-term success, creating a model where they can be fairly rewarded for their creation.
TEL AVIV, Israel (PRWEB) February 10, 2020
Leading mobile marketing company ironSource announced today the launch of mobile game studio Supersonic Games, a new company that will focus on publishing and developing ad-based games. By extending the services they offer developers, and becoming more deeply involved in creating and launching games, ironSource will also be able to add more value to all game developers already utilizing their platform.
"This new offering strengthens our connection to the game industry and is a natural evolution of our current mission to turn great games into successful businesses," said Omer Kaplan, CRO of ironSource. "Our vision is to be the platform which enables our partners to reach their full potential, and getting closer to the creation process of one of the fastest-growing segments in mobile time spent is a key part of that."
Within 10 days of its founding, Supersonic Games has already published a chart-topping game, with "Sort It 3D" reaching the top of the major European, US, Korean and Japanese charts within a day of launch, and the company has an exciting pipeline of games which will be launched within the next month.
Developers working with the studio will be able to tap into ironSource's game growth platform and benefit from access to the extensive scale of the company's game network. Additionally, developers will have the opportunity to partner with a team who has deep knowledge and experience executing user acquisition and ad based monetization strategies to scale games.
"We know how challenging it is to create a successful game today, and our goal at Supersonic is to partner with developers for long-term success, creating a model where they can be fairly rewarded for their creation," said Nadav Ashkenazy, GM Supersonic Games. "The success of Sort It 3D is a testament to the power and impact of combining a strong game growth company with a strong game, and this is an approach we plan to apply to future games."
Beyond the ongoing horizontal consolidation of the game industry, the last two years have seen an uptick in vertical consolidation, with successful game studios joining adtech providers or vice versa. Companies which combine a strong advertising business with a popular mobile games offering enjoy a significant edge in today's competitive market, benefiting from a more efficient funnel with fewer margins, ultimately resulting in more revenue for the developer.
"In a highly competitive market where the fight for user attention continues to get harder, the foundation for building the successful mobile game companies of the future involves a synergy between gametech expertise and extensive financial and operational resources, together with a proven game business," continued Kaplan. "Long-term, our vision is to bring the same technological expertise and best-in-class product development to the process of publishing, creating tools to automate the publishing experience and make it more efficient and scalable across the industry."
About ironSource
Working with the world's largest mobile game companies, ironSource is developing the industry's leading growth engine for games. With a robust mobile ad mediation platform, mobile ad network, and a data-driven user acquisition platform, ironSource closes the monetization and marketing loop to empower game developers to turn their games into successful businesses. Founded in 2010, ironSource is a truly global company, with a strong local presence in Tel Aviv, London, New York, San Francisco, Beijing, Shenzhen, Bangalore, Seoul and Tokyo. Read more at http://www.ironsrc.com.