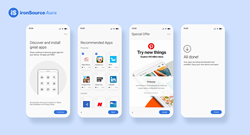 "Providing our customers with a device experience that meets the specific needs of the user, is of the utmost importance to us. The Aura solution suite supports this goal - we can create an experience that is geared towards maximum relevance, engagement and ultimately, individual value."
TEL AVIV, Israel and SAN FRANCISCO (PRWEB) July 14, 2021
ironSource (NYSE:IS) a leading business platform for the App Economy, announced today the integration of its solution suite for telecom operators and OEMs, Aura, on Samsung's devices in Germany, including the latest 2021 A and M series devices. This partnership follows existing collaborations with Samsung in Russia, India, South East Asia, and other European countries, as well as partnerships with major European carriers. Aura is designed to empower leading telecom operators and OEMs like Samsung to create a dynamic device experience for their customers by providing relevant content, apps and services directly on the device. These smart recommendations are delivered via engagement touchpoints during the initial setup of a device, aiming to deliver more value to the user.
"Providing our customers with a device experience that meets the specific needs of the user, is of the utmost importance to us," explains Gerrit Povel, Head of the Direct to Consumer Division at Samsung Electronics Germany. "The Aura solution suite supports this goal - we can create an experience that is geared towards maximum relevance, engagement and ultimately, individual value."
Setting up a new device for the first time is typically a moment where users are very focused on downloading the apps they'll be using over the long-term. Aura's AI and machine learning capabilities provide a dynamic setup experience with smart app recommendations during the device onboarding process, enabling users to set up their devices with the apps, content and services that they want and need. This helps partners, such as Samsung Germany, upgrade the device experience, increase satisfaction and build long-lasting relationships with their users. Additionally, the app recommendation touchpoints create a unique on-device distribution channel for developers to promote their apps as a native part of the device experience.
"Our goal is to leverage our expertise in the effective distribution of apps to empower OEMs and telecom operators to deliver a differentiated user experience, and unlock customer loyalty and incremental revenue," said Arnon Harish, president and cofounder of ironSource. "With this in mind, we're delighted to be partnering with Samsung Germany, to give their customers a richer, more dynamic and above all more valuable device experience."
ironSource Aura is used by some of the world's leading telecom operators and OEMs, including Boost, Orange, and Samsung, with approximately 180 million active monthly users as of December 2020.
About ironSource
ironSource is a leading business platform that enables mobile content creators to prosper within the app economy. App developers use ironSource's platform to turn their apps into successful, scalable businesses, leveraging a comprehensive set of software solutions which help them grow and engage users, monetize content, and analyze and optimize business performance to drive more overall growth. The ironSource platform also empowers telecom operators to create a richer device experience, incorporating relevant app and service recommendations to engage users throughout the lifecycle of the device. By providing a comprehensive business platform for the core constituents of the app economy, ironSource allows customers to focus on what they do best, creating great apps and user experiences, while we enable their business expansion in the app economy. For more information please visit http://www.is.com