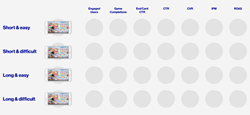 Instead of just tracking an impression and a click, we're able to access a wealth of previously inaccessible data on what's going on inside the ad itself. This opens up a plethora of opportunities for optimizing the in-ad experience.
TEL AVIV, Israel (PRWEB) July 24, 2018
Leading mobile monetization and marketing company ironSource today released its In-Ad Data Platform, giving advertisers access to previously unavailable analytical data on how their ads are performing beyond the impression and the click. Currently in a closed beta with selected premium partners, the platform also allows advertisers to access performance data at the level of a specific ad creative. The In-Ad Data Platform analyzes and provides aggregated data concerning how users engage with the advertisements.
"With the rise of interactive ad units like playable or interactive video ads, the ad has suddenly become not just part of a funnel, but a funnel in and of itself," said Dan Greenberg, Chief Design Officer at ironSource. "Instead of just tracking an impression and a click, we're able to access a wealth of previously inaccessible data on what's going on inside the ad itself. This opens up a plethora of opportunities for optimizing the in-ad experience and helping advertisers learn more about their audiences in the aggregate. The promise of true creative optimization has finally been fulfilled."
"Beyond the increase in performance and spend efficiency which interactive ads bring to a campaign, what's truly unique here is the sheer amount of new information that they make available to a marketer," said Carissa Gonzalez, Senior Marketing Manager of Pixelberry Studios. "ironSource's in-ad data dashboard not only allows us to see which parts of the in-ad funnel are working more or less well, but also provides data on what in-app content - like characters or storylines - our users like best."
With the new platform, advertisers are able to access new types of in-ad metrics which allow for much deeper creative optimization and analysis that go far beyond the current industry standards of measuring volume of impressions, CTR and CVR. This includes a full in-ad funnel analysis that provides advertisers with a clear, aggregate view of the drop-off points in the ad, highlighting the 'pull' effect of the creative on users throughout the experience.
For interactive ads which allow users to make choices that change the progression of the ad - like 4D ads - the platform also provides aggregated data of users' choices. This provides critical insight into audience preferences which can be used by marketers looking for a quick feedback loop on what messages resonate best with consumers collectively.
"The powerful promise of interactive ads like 4D or playable ads is their ability to say more about audience interests than completions and clicks, and to reflect the audience's real-time preferences," continued Greenberg. "With this platform, that data is aggregated in a format that is immediately actionable for brand advertisers."
Finally, advertisers are also able to access benchmark data on interactive ads, which is aggregated based on 45B impressions from interactive campaigns run by ironSource over the last two years. Data from the platform reveals interesting trends:
Engagement rate (percentage of users who engage with the ad) for hyper casual games is 88%, for casual games is around 65%, while for mid-hard core games is around 50%.
For playable ads, the win-to-install rate is 6% higher than the loss-to-install rate, except for hyper casual games, where losing in a playable ad actually results in a higher rate of installs.
Completion rates for both playable and interactive video ads are usually around 87%, implying that once users choose to engage they tend to complete the interactive advertising experience.
"Because of the scale and variation of the campaigns we're running, we're able to get a birds-eye view of how interactive campaigns operate and behave as a whole," concluded Greenberg. "This means we're able to provide our advertisers with useful in-ad benchmarks, which helps us optimize and helps them evaluate success."
About ironSource
ironSource, the leading in-app video advertising platform, makes free-to-play and free-to-use possible for over 1.5B people around the world. We build technologies that help app developers take their apps to the next level, including the industry's largest in-app video network. Since only 2% of users pay to play, we provide tools to engage the other 98%. That's why over 80K apps use our technologies to grow their app businesses, and why we're working with leading companies like Kongregate, Big Fish Games, Zynga and Playrix. We care about good creative and making ads as enjoyable as your games, and our designers sit next to our performance team, making sure data informs every creative decision. Founded in 2010, we're a truly global company, with a strong local presence in Tel Aviv, London, New York, San Francisco, Beijing, Bangalore, Seoul and Tokyo. Read more at http://www.ironsrc.com.