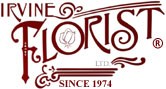 Irvine Florist is now providing same day delivery of their beautiful large floral arrangements and big floral arrangements. Orders can be placed online at http://www.irvineflorist.com.
Irvine, California (PRWEB) August 01, 2013
Irvine Florist makes same day deliveries on large flower arrangements anywhere in the United States and Canada at the best prices available. Family-owned Irvine Florist has been making special occasions memorable nationwide since 1974 with a commitment to offering only the very best floral arrangements and gifts for their customers.
Customer service has been the key to the success of the Irvine, California, florist that is known not only in Southern California, but also across the nation and in Canada, as the place to call for huge floral arrangements at small prices promptly delivered by local florists. Same day delivery of flowers is available for orders received by 2:30 PM in the recipient time zone Monday through Friday. Same day delivery is available on Saturdays for orders placed by 1:00 PM in the recipient time zone. It is often possible to have same day deliveries on orders received after 2:30 PM due to Irvine Florist's commitment to arrange for local merchants to meet such requests. All orders received later in the day or at night will be delivered the following day.
Telephone orders can be made directly from 7:00 Am to 6:00 PM Pacific time, Monday through Friday and from 8:00 AM to 6:00 PM on Saturdays by calling (800) 443-4425 toll free. Orders can be placed online 24/7 at http://www.irvineflorist.com. Inquiries for additional information can be made by email at customerservice(at)irvineflorist(dot)com.
Irvine Florist's staff of talented designers can provide the perfect personal touch for any floral need, from full service wedding arrangements to personal, intimate deliveries. They take great pride in the detail and care they give to funeral services. Funerals are their top priority. If an order is for a funeral service, Irvine Florist's policy is to call the funeral home or church and verify the service time, so that they can deliver before the viewing/service time. If an individual places an order too late to make the funeral service, Irvine Florist will promptly contact the customer by telephone, so that something appropriate can be sent to the family's residence.
Irvine Florist's big floral arrangements are stunning and are certain to make a hit with the recipient. The full service floral experts deliver everything from elegant rose bouquets and arrangements and scores of other flower displays to living plant/flower arrays to fit any occasion, all for unbeatable prices, which always include delivery.