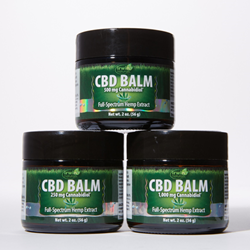 While many new CBD products are coming out in the marketplace, they are often priced out of reach for the average consumer
LOS ANGELES (PRWEB) October 16, 2019
Irwin Naturals, a leading CBD manufacturer, announced the launch of a new line of full-spectrum hemp extract CBD balms for topical application. The line of balms contains CBD from a full-spectrum hemp extract, using technology that helps retain the beneficial phytochemicals found naturally in the plant. Consumer interest in topical CBD has increased significantly—Google searches for the term "CBD Balm" have tripled in the past year.
"It's easy to forget that the skin is one of the largest organs of the body and is a highly active one at that. Within the skin tissue exists a hustling and bustling environment populated by hair follicles, sensory nerves, and of course — endocannabinoid receptors," said Dr. Elijah McCarthy, Product Formulator at Irwin Naturals. "Because there are so many endocannabinoid receptors in the skin, many consumers have found that topical application of CBD works best for them. When tested with consumers, our light lemongrass scent and non-greasy formula received enthusiastic feedback."
Each balm comes in a 2oz jar, with different levels of CBD to meet a wide variety of consumer needs:

250mg CBD, MSRP $24.99
500mg CBD, MSRP $32.99
1000mg CBD, MSRP $49.99
The balms are currently available on the Irwin Naturals website, IrwinNaturals.com, and will begin shipping to retailers this month. These new products add to the company's lineup of CBD liquid soft-gels and oils, and bring the company's total CBD portfolio to 26 items. All products are 3rd-party lab tested to meet stringent purity standards and to ensure that THC levels are under 0.3%.
"While many new CBD products are coming out in the marketplace, they are often priced out of reach for the average consumer," said Tim Toll, CEO of Irwin Naturals. "As part of our company mission, we strive to make CBD affordable for all who need it. I am proud that we were able to launch a line of balms with significant amounts of CBD at reasonable price points."