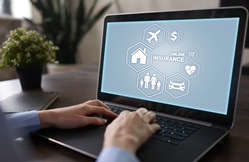 Over the past year, digital adoption in the industry grew by 20% and a TransUnion survey found that almost 40% of respondents who filed a claim last year did so through the use of a mobile app, website portal or email.
LOUISVILLE, Ky. (PRWEB) February 22, 2021
COVID-19 has upended and affected every type of industry across the globe causing most to scramble to adjust to a new normal. The insurance industry is no exception as the pandemic has shined a spotlight on the antiquated methods many providers relied on to determine policies and procedures. However many are using the lessons they've learned to lead to positive changes.(1) "Normally it takes three weeks to get a life insurance policy," said Paul Ford, co-founder and CEO of Traffk, "When COVID shut everything down and people could not get a physical exam, the backlog went up to three months but companies that used digital health data were not affected."
In addition to bringing forth the downsides to the insurance industry's lagging adoption of high-tech solutions, the coronavirus has emphasized how outdated the mortuary tables are that most companies use to determine their policies.(2) Consumers are also being left behind as their policy holders may try to withhold payment for COVID-related illnesses or deaths by claiming it is an "act of God."(3)
Life insurance companies cannot change the language for active policies, but the legalized style of writing can mean that most don't read every word and may find some unpleasant surprises about their policy as they file claims. Some insurers have stopped selling policies to customers older than a certain age; possible long-term side effects could cause insurers to update their underwriting standards and the threat of a recurring COVID-19 season might mean higher costs in life insurance.(4)
Insurance technology can help companies assess their risk and better serve their customers. Digitization in the insurance industry has had to accelerate this year and the companies that embrace new technologies have boosted their bottom line and benefited their customers.(5) Over the past year, digital adoption in the industry grew by 20% and a TransUnion survey found that almost 40% of respondents who filed a claim last year did so through the use of a mobile app, website portal or email and that 32% said they preferred to communicate with an insurance provider primarily via e-mail.(6)
As more and more of their clients turn to digital solutions, insurance companies must do the same if they want to be successful. InsurTech solutions can offer cloud-based infrastructure to both owned and partnered distribution and can help a company rapidly design, develop and distribute bespoke insurance products. Risk management services including proprietary alternative data sets, streamlining portfolio management and digital risk experience monitoring can also help improve efficiency, profitability and growth for carriers, reinsurers, underwriters and distributors.
This change to a more digitized platform also benefits the insurance agent in many ways. Digitization means agents can sell insurance online, telephonically, over Zoom calls, in new ways. Also, gathering the information on potential customers will be faster and easier—not to mention more accurate. It helps agents better assess risk, which could impact the company's profitability. Agents will also have at the touch of a button the latest information and thus break their reliance on obsolete and antiquated actuarial tables. Plus, it will help break the existing backlog of cases caused by the pandemic. According to Ford, adopting technology avoids the usual bureaucratic impediments that have always existed, which have stifled innovation.
"With the right technology, potential policyholders don't have to visit the doctor or answer the same questions over and over to get insurance," said Ford. "We use deeper levels of data, more than 4,000 robust data points, to calculate risk and can use digital data from previous doctors' appointments and medical records to create technology-enabled insurance products that protect consumers and insurers."
About Traffk
Traffk is an innovative insurance underwriting and distribution platform designed to build and launch modern insurance products and brands that scale. With more than 25 years combined leadership in insurance and AI, Paul Ford and Glen Hibler co-founded Traffk as a solution to the problems of inefficient, assumption-based underwriting and slow processing in the insurance industry. Traffk's goal from the start has been to comprehend the risks and modernize the insurance underwriting process by leveraging modern-day tools. Traffk enables risk bearers to leverage the underwriting process with its data-enrichment technology and integrates and analyzes data to glean insights pertinent to insurance. Traffk works with agents as partners, providing them with the digital tools to work with an efficient sales process and engage consumers with a fast, accurate process for insurance policies, changing the insurance landscape for the better, forever. Visit https://www.traffk.com/
1. Farrell, Mark, "How is the coronavirus affecting the insurance industry?" | 15 October 2020; Economics Observatory, economicsobservatory.com/how-coronavirus-affecting-insurance-industry.
2. "Growing Number of Lawsuits Claim 'Old' Mortality Tables Deprive Participants of Benefits – An Update." | 6 June 2019; Groom Benefits Brief; groom.com/resources/growing-number-of-lawsuits-claim-old-mortality-tables-deprive-participants-of-benefits-an-update
3. Barton, Sian, "Insurers urged to pay claims quickly following BI ruling." | 15 January 2021; Insurance Age; insuranceage.co.uk/insurer/7538521/insurers-urged-to-pay-up-to-ps18bn-in-claims-quickly-following-bi-ruling.
4. Price, Sterling, "How is Coronavirus (COVID-19) Affecting Life Insurance? An FAQ." | 15 January 2021; Value Penguin; valuepenguin.com/life-insurance-coronavirus-faq#harder.
5. Sagalow, Zoe, "Pandemic spurs technology growth in insurance industry." | 14 January 2021; Roll Call; rollcall.com/2021/01/14/pandemic-spurs-technology-growth-in-insurance-industry.
6. "3 Ways COVID-19 Will Continue to Impact Insurance Industry in 2021." | 5 February 2021; Insurance Journal; insurancejournal.com/news/national/2021/02/05/600219.htm.