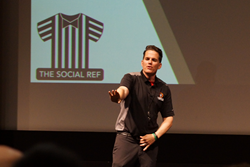 "Memorizing a cookbook won't make you a chef, and memorizing your rulebook and signals won't make you a ref. "
SEATTLE (PRWEB) November 06, 2019
The uncomfortable has now become common— crazed soccer moms or dads screaming at their child's referee from the sidelines or fans going ballistic on youth umpires trying their best, sometimes leading to an all-out brawl on the field. As recruitment numbers for sports officials continue to decline nationwide, a new book argues that the solution is not in the calls but the communication. Shawn D. Madden, founder of Underdog Sports Leagues and a veteran rec referee, discusses conflict resolution and communication habits in his new book, the Social Ref: How to Become a Better Referee and Umpire.
New refs may know the rules and signals, but many lack the communication skills to handle conflict in a social media-savvy society, where fans can record and publicize every misstep on their smartphones. The Social Ref offers basic tools to master information and communication habits to survive and thrive as a referee or umpire in any sport or league setting. It's the starting guide for new officials in youth leagues, college intramural programs, and Sport and Social Clubs across the country.
"We are proud to help officials from all sports and backgrounds learn these essential survival skills," said Madden. "The answer to the ref shortage is not better rules or technology but better communication, starting with common traps and mistakes made by every new referee and umpire."
The Social Ref teaches the five key habits that are essential for any sports official. Within each habit is a group of "Brain Switches" that new refs need to "flip" in order to become a "Social Ref" —a master of communication skills, defusion tools, and proactive game control. Training programs short on staff and time often miss building an effective communication system, which leads to bigger problems on the field and referees giving up after their first tough encounter with a player or fan.
"Memorizing a cookbook won't make you a chef, and memorizing your rulebook and signals won't make you a ref," Madden explained. "Refs and umps need to learn to identify and manage normal player conflict and passion on the field, especially when they make a great call that nobody likes or understands."
The Social Ref book includes stories from the field and simple starting ideas like how to "gift information," "ref big and small," deal with "defender comments," and avoid the "worst game you ever ref." It teaches new refs how to communicate with their arms and feet first and why watching sports on TV actually makes it harder to become a great official.
"The Social Ref" is currently available for sale in paperback and ebook via Amazon.com and through audiobook with 2 hours of bonus content exclusively on Audible.
About Shawn D. Madden/The Social Ref
Shawn D. Madden is an entrepreneur, referee, and author. He is the founder and Ambassador of Fun at Underdog Sports Leagues— the largest co-rec sports league in Washington and Oregon. He is CEO of League Lab, a SAAS league management platform for large scale sports leagues, and the founder of FunCorp, a specialized corporate events company that focuses on "Friend Building" in the workplace. He regularly gives speeches and workshops on Friend Building and communication. He published "the Social Ref" in 2019 to equip sports officials of any background with the communication habits and defusion tools to become better referees and umpires. The book debuted as the #1 best seller in the Softball category on Amazon.com. It combines ideas from small business, thousands of hours as a referee, and interactions with hundreds of trainees at Underdog . A graduate of Carleton College and former Microsoft contractor, Shawn currently resides in Seattle with his wife and daughter.
For more information, educational book purchases, or to request an interview or speaking engagement, visit https://www.socialref.net/.