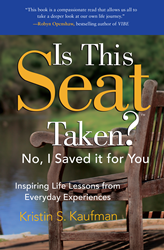 A must-read book during challenging times
DALLAS (PRWEB) March 23, 2020
Author Kristin S. Kaufman, founder of Alignment, Inc., was named a 2019 Foreword INDIES Book of the Year Awards Finalist for the third and final book in her successful Is This Seat Taken? book series, Is This Seat Taken? No, I Saved It for You(Greenleaf Book Group). Discover the hidden blessings of every day encounters. Be inspired to take notice and learn. Life is about attitude, period.
As part of its mission to discover, review, and share the best books from university and independent publishers, Foreword Magazine, Inc. hosts an annual awards program each year. Finalists represent the best books published in 2019. After more than 2,000 individual titles spread across 55 genres were submitted for consideration, the list of finalists was determined by Foreword's editorial team. Winners will be decided by an expert team of booksellers and librarians—representing Foreword's readership—from across the country.
The complete list of finalists can be found at:
https://www.forewordreviews.com/awards/finalists/2019/
"One of the most difficult jobs our editors have at Foreword is determining which books will move to the Finalist round of the INDIES," said Victoria Sutherland, publisher. "We saw such impressive work this year, and it was extremely difficult to cull this list."
"To stand out among so many wonderful submissions, a book has to be exceptional," says Managing Editor, Michelle Anne Schingler. "We're proud to attach our names to each and every book selected as a finalist, and we're eager to learn how the judges received these extraordinary picks."
Available online: https://amzn.to/2xfRTK8 (Body, Mind, Spirit)
To learn more, visit: kristinkaufman.com
Founded in 1998, Foreword Magazine, Inc. is the publisher of the only review journal completely devoted to independent publishing: Foreword Reviews, a Folio: award-winning bimonthly print review journal. Foreword exclusively covers university and independent (non "Big 5") publishers, the books they publish, and their authors. Foreword is based in Traverse City, Michigan.