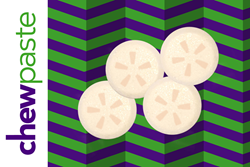 "ChewPaste is by far the best toothpaste tablet available. It's important that the tablets be completely non-toxic and safe to eat, so they are made with medical-grade hydroxyapatite for remineralization instead of fluoride," says Dr. Martin Giniger, Ph.D, DMD
BOCA RATON, Fla. (PRWEB) November 25, 2020
For the second week in a row, miBrite, the brand that sparks confidence and smiles, smashes all records and announces another paradigm-shifting platform toothpaste tablet technology: ChewPaste. The first in a series of tablets features an all-natural toothpaste, good for the environment, and uses medical-grade hydroxyapatite to remineralize teeth.
Toothpaste tablets have become popular recently due to the environmental benefits that tablets provide over traditional toothpaste. Regular toothpaste contains over 80% of its weight in humectants and water. The humectants added to toothpaste such as glycerin, sorbitol, and propylene glycol are added to toothpaste to prevent the toothpaste from drying up and becoming crumbling sand (silica).
In addition to these liquids added into toothpaste that increases the weight and volume, liquids make it challenging to add many beneficial ingredients to the formulation since water will eventually break down the ingredient's structure and make the ingredient no longer effective.
miBrite ChewPaste has been in development for years and is the innovation of the world's top oral care researcher and product formulator, Dr. Martin Giniger, Ph.D., DMD. Dr. Giniger has a Ph.D. in biochemistry and has worked with many large pharmaceutical companies on developing new drugs. This experience has guided the development of miBrite ChewPaste to result in a soft-to-chew tablet which can deliver beneficial ingredients.
"We spent a great deal of time on the formulation of miBrite ChewPaste so that it would provide a better experience than traditional toothpaste and not only be a more environmentally conscious alternative," says Dr. Giniger, adding, "ChewPaste is by far the best toothpaste tablet available. It's important that the tablets be completely non-toxic and safe to eat, so they are made with medical-grade hydroxyapatite for remineralization instead of fluoride."
Besides not containing any added liquids to miBrite ChewPaste, they are also sold in recycled and recyclable and reusable metal tins and use recycled paper for the outside box. miBrite ChewPaste is available in two different sizes: a 30 day supply (60 ChewPaste tablets) and a 90 day supply (180 tablets).
For more information, visit miBrite's website: http://www.mibrite.com
About Smash Labs, LLC and miBrite
Smash Labs, LLC is a multi-faceted oral care product innovation international firm based in Boca Raton, Florida, and Amsterdam, The Netherlands. Dr. Martin Giniger, Ph.D., DMD heads the company as Smash Lab's Chief Scientist and works together with Oral Care R&D formulator Matt Spaid. Smash Labs works closely with companies worldwide and helps them formulate the products of their dreams. For more information, visit http://www.smash-labs.com and http://www.mibrite.com
###