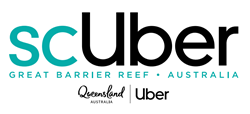 BRISBANE, Australia (PRWEB) June 19, 2019
Until now, underwater romances have been the stuff of blockbuster movies, but thanks to Queensland and Uber, one lucky competition winner finally made his wish to create a subaquatic marriage proposal a reality.
Last month, Justin McIntaggart, a barber shop owner from Ontario, Canada, entered the global scUber competition, a campaign which resulted in more than 152,000 entries. He never expected entering the competition would change the course of the rest of his life.
After being selected from 152,000 people to be one of six lucky winners, the 29-year-old took the opportunity to plunge in and ask his girlfriend, Kate Hartberg, 25, to take his hand in marriage at 57 feet below the ocean's surface in scUber, the world's first rideshare submarine on the Great Barrier Reef.
Back on land, a shell-shocked Kate, originally from Australia's Gold Coast, said: "Wow, I am speechless! What a beautiful surprise. Justin and I both adore the ocean, and riding in the scUber submarine was already a "pinch myself" moment, but I really couldn't believe my eyes when Justin got down on one knee.
"We were in this magnificent bubble, surrounded by stunning coral and the most bright, colorful marine life, both in awe by the whole experience.
"It was just perfect, and extra special to share this moment in my home country."
The newly-engaged couple will celebrate this week by exploring the world's oldest rainforest, the Daintree Rainforest, and a tour around some of Australia's greatest waterfalls around Cairns, before planning their dream wedding.
Their love blossomed after a long distance friendship which started in Canada. Kate, an avid traveler, met Justin in Banff, Alberta, while traveling in 2014. Fast forward five years and the couple returned to Kate's home state for an incredibly special milestone in their relationship. A moment Justin had been romanticizing over for the past year.
Available to book in Tropical North Queensland until June 18, the scUber experience includes a return transfer from the original location with a ScUber car, a helicopter ride with Nautilus Aviation to the Quicksilver pontoon located at Agincourt Reef, and a one-hour ScUber experience offering stunning 180-degree views of the Reef. The exclusive experience costs $2,055 per couple.
Agincourt Reef, off the coast of Port Douglas, is named one of the world's greatest diving and snorkeling sites and runs parallel to the continental shelf on the northern section of the outer Great Barrier Reef. Below the crystal clear surface lives some of the most vibrant aquatic animal and plant life unique to Australia's coast. Riders at Agincourt Reef will marvel at spectacular corals and marine life including clownfish, giant clams, butterfly fish, parrot fish, angel fish and white tipped reef sharks, among many other species.
Greater than 69 million football fields in size, the Great Barrier Reef is the world's largest and longest coral reef system. The extraordinary biodiversity of its species and habitats make it one of the most complex natural systems on Earth, containing more than 600 different types of coral (one third of the world's coral species), approximately 1,625 species of fish and more than 1,000 islands.
As part of the global launch of scUber, Uber will donate $68,523 to Citizens of the Great Barrier Reef, to support their ongoing Reef conservation initiatives. Uber will also donate the equivalent value of every scUber ride to initiatives Citizens is undertaking in an effort to preserve the Reef. The Citizens movement aims to engage people from all over the world in the Reef's future and inspire them to take action to help protect it. To find out more about Citizens' Reef Tracks program, visit here.
Please see here a suite of video, audio and visual assets for usage, along with details of spokespeople available for interview.
For more information on scUber, the consumer competition and partnership between Queensland and Uber, visit: http://www.scUberQueensland.com.
ENDS
Notes to Editors
For domestic inbound visitation statistics, see here.
For market specific visitation figures on the Great Barrier Reef, see here.
About scUber
scUber is the world's first rideshare submarine on the Great Barrier Reef. From May 27– June 18, scUber is available exclusively via the Uber app, offering a front row seat to the exquisite beauty of the Great Barrier Reef – all without the need for a snorkeling mask or a diving license!
The scUber experience started on Heron Island, off the coast of Gladstone in the Southern Great Barrier Reef region, before it relocated to Agincourt Reef off the coast of Port Douglas in Cairns & the Great Barrier Reef region from June 9.
About Uber
Uber's mission is to create opportunity through movement. We started in 2010 to solve a simple problem: how do you get access to a ride at the touch of a button? More than 10 billion trips later, we're building products to get people closer to where they want to be. By changing how people, food, and things move through cities, Uber is a platform that opens up the world to new possibilities.
About Tourism and Events Queensland
Tourism and Events Queensland (TEQ) is a statutory body of the Queensland Government and the state's lead marketing, destination and experience development and major events agency.
In partnership with government, regional tourism organisations, industry and commercial stakeholders, we aim to build Queensland's tourism and events industry to foster innovation, drive industry growth and boost visitor expenditure.
TEQ is a consumer-led experienced-focused and destination-delivered organisation that connects people and places like never before through innovation and collaboration with the tourism and events industry.