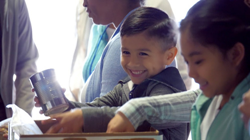 We look forward to hearing from nonprofits that share our deep commitment to helping children, adults, and families live healthier lives. Together, we can provide the resources needed to make an enormous impact on communities around the world. - Justin Powell
GILBERT, Ariz. (PRWEB) March 13, 2020
Organizations that can help the ISA Foundation provide healthy nutrition and support for underserved children, wellness education for all, and aid for those affected by natural disasters are invited to apply for the foundation's latest round of grants.
U.S.-based 501(c)(3) nonprofits can submit their applications online March 15-April 15. The foundation expects to notify recipients in June. Previous grants ranged from $2,500 to $100,000, with an average grant of $30,000.
"We look forward to hearing from nonprofits that share our deep commitment to helping children, adults, and families live healthier lives," said Isagenix Chief Legal Officer and ISA Foundation Board Member Justin Powell. "Together, we can provide the resources needed to make an enormous impact on communities around the world, building on the work already completed by the many organizations we've had the privilege to fund."
Since launching in 2018, the ISA Foundation, operated by global health and wellness company Isagenix International, has awarded grants totaling more than $2.5 million to 65 nonprofits. The foundation has also provided several volunteer opportunities to Isagenix independent distributors and employees, ranging from a service day at Central Park's community garden in Phoenix with grant recipient Habitat for Humanity Central Arizona to a service trip to Kenya with another grant recipient, Georgia-based SERV International.
The ISA Foundation represents the latest chapter in how Isagenix is embodying its core value of contribution. Since 2002, the company and foundation have contributed over $33 million in product and cash donations around the world.
To learn more about the ISA Foundation, visit ISAFoundation.net; follow the foundation on Facebook, Twitter, or Instagram; or email ISAFoundation@IsagenixCorp.com.
To learn more about Isagenix, visit the Newsroom, like the company on Facebook, and follow it on Twitter and Instagram.
About the ISA Foundation
Established in 2018, the ISA Foundation is a 501(c)(3) nonprofit organization whose mission is to create sustainable impact globally through volunteer efforts and charitable contributions focused on healthy nutrition and support for underserved children, wellness education for all, and aid for those affected by natural disasters. Isagenix International covers all administrative costs of the foundation so 100% of donations can benefit those in need. For more information, visit ISAFoundation.net.
About Isagenix International
Established in 2002, Isagenix provides systems for weight loss, performance, vitality and well-being, personal care and beauty, and financial wellness. With more than 400,000 customers worldwide and more than 100 products, packs, and systems globally, the company is committed to supporting healthy change in its customers' and independent distributors' lives. Isagenix shares its products and solutions through a network of independent distributors in 14 markets: the United States, Canada, Puerto Rico, Hong Kong, Australia, New Zealand, Taiwan, Mexico, the United Kingdom, Ireland, the Netherlands, Belgium, Spain, and South Korea. Isagenix is a privately owned company with headquarters in Gilbert, Arizona. For more information, visit Isagenix.com.