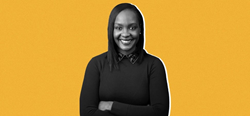 She imagines a world where Squad is as commonplace as Instagram and Twitter--but more joyful, fulfilling, and connected.
NEW YORK (PRWEB) October 15, 2020
Inc. today announced its third annual Female Founders 100 list, honoring an influential, ambitious, and diverse group of 100 women who are building America's most inspiring businesses.
The final list honors entrepreneurs of every age, background, and geography—from very early-stage founders with world-changing ideas to women who have taken companies public, sold them to big buyers, or spent decades building and running their businesses. These women are leading innovative companies in a vast range of global industries, including tech, retail, finance, fitness, health care, consumer products, food, and more.
"I am super honored to join this year's Inc Female Founders list with 99 movers and shakers who have managed to break barriers in a year with unprecedented challenges," said Isa, Founder & CEO of Squad.
Isa's journey in tech is unconventional to say the least. Starting as a chemist in a lab coat and birkenstocks, to earning the nickname the "Olivia Pope of Wall Street" by her colleagues at JPMorgan Chase, Isa learned the nature of pivoting and mastering really different skills early on. She channeled her scientific eye for building, her finance eye for planning, and mixed in a bit of Caribbean cool to pivot into tech and build a platform the world has been waiting for. While it took upwards of 400 meetings in Silicon Valley to really set the foundation, she is letting nothing stand in her way.
Isa understands the huge difference between being seen as a human, and being known for a persona. Before starting Squad, she was your typical millennial spending hours on social media per day which led to 30k followers across all platforms, but even with this, the persistent feeling of loneliness and isolation remained. She was known for being this accomplished chemist, MIT grad and finance hot shot, but not seen for her passions, altruism and commitment to positively change the world. After wine one night with a couple of friends, Isa realized that as a people, we were drifting apart and isolating, way more than we were connecting and coalescing.
These days, most social feeds are comprised of posts from people you've never laughed in the same room with. But Isa's vision for Squad is to help people have a delightful and deeper experience with a tighter circle of friends vs. a broad set of hundreds (or thousands). She imagines a world where Squad is as commonplace as Instagram and Twitter--but more joyful, fulfilling, and connected.
Isa is best known as the pro-therapy, piano playing, crepe obsessed, french wine loving child of immigrants who is building an all new playbook for how millions of people connect deeply around the world. From building $1bn digital products on Wall Street by 27, to being the youngest published chemist in the world at 19 for her work, Isa is using a splash of her Caribbean culture to make the name Watson as commonplace as Zuckerberg. Recently named an All Raise fellow, and a scout for Lightspeed Venture Partners (an early VC backer of Snap, Grubhub and Carta), Isa is moving and shaking in the tech sector.
Inc. editors and writers spent the past year researching candidates for the list, considering a wealth of exciting and accomplished candidates. For the first time, Inc. also invited founders to apply for the list—and to nominate another founder who has particularly impressed them. Each of the founders selected has left her mark on her industry in the past year, by setting audacious goals or by achieving business milestones. Taken together, they represent the female-led future of business.
"Our team vetted thousands of applications to find the 100 women highlighted on this list. It's the most inspiring work we do all year, and we're so thrilled to be able to feature these fierce, accomplished entrepreneurs and start to give them the recognition they deserve," said Inc. editor-at-large Kimberly Weisul.
To see the complete list, go to: https://www.inc.com/female-founders
Introduced in 2018, the Female Founders 100 list was quickly established as one of Inc.'s most esteemed franchises. This year's package includes a cover story on Sara Menker, founder and CEO of Gro Intelligence, a technology company that is bridging data gaps across the global agriculture sector, empowering decision makers, and creating a more informed, connected, efficient, and productive global agriculture industry; as well as business advice from all of the founders on the topics of big ideas, people, money, culture, and customers.
Inc.'s Female Founders 100 issue (November 2020) is available online now at https://www.inc.com/magazine and on newsstands beginning October 27. Join the Female Founders 100 conversation using #FemaleFounders.
About Inc. magazine
The world's most trusted business-media brand, Inc. offers entrepreneurs the knowledge, tools, connections, and community to build great companies. Its award-winning, multiplatform content reaches more than 50 million people each month across a variety of channels, including websites, newsletters, social media, podcasts, and print. Its prestigious Inc. 5000 list, produced every year since 1982, analyzes company data to recognize the fastest-growing privately held businesses in the United States. The global recognition that comes with inclusion among the 5000 gives the founders of the best businesses an opportunity to engage with an exclusive community of their peers, and the credibility that helps them drive sales and recruit talent. The associated Inc. 5000 Conference is part of a highly acclaimed portfolio of bespoke events produced by Inc. For more information, visit http://www.inc.com.
About Squad
Squad is the digital platform for you to be seen & heard by your people--because at the end of the day, it's the people in your Squad that matter. Being saturated with posts in your social feeds from people you've never laughed in the same room with is an unfulfilling experience of the past. Squad is leading the social revolution to help you go deep with the people who matter most, and is currently invite-only. Squad is an Inc 30 under 30 company and has been featured in a number of outlets including TechCrunch, Forbes, Bloomberg, Fast Company, Bustle, Crunchbase, and many more. Squad has raised over $3mm from top VCs in Silicon Valley.