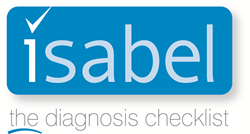 "Technologies like ReelDx and Isabel are helping to teach future generations of clinicians how to more effectively and more accurately diagnose patients,"
Ann Arbor, MI (PRWEB) September 08, 2014
Isabel Healthcare today announced a partnership agreement with ReelDx, Inc., the leading hosting platform for creating and sharing HIPAA-compliant clinical video, to provide the next-generation clinical learning platform. The companies will deliver a solution that combines the Isabel Diagnosis Educator tool with robust, real patient video cases from ReelDx Education.
This combination of strong diagnosis decision support with real patient video cases creates a powerful learning opportunity for clinical learners. Students review case notes and a video of the real patient-provider interaction. They then determine the relevant clinical details of the case to suggest differential diagnosis, testing and treatment. Next, they use the embedded Isabel diagnosis decision support tool to reflect and revise their findings. When finished, the learner's inputs are compared to the standard for the case. The combination of rich case presentation, use of clinical decision tools, and research-based assessment and feedback is unique in medical education.
"We are very excited about the integration of ReelDx cases with Isabel's education platform," said Don Bauman, chief executive officer of Isabel Healthcare. "Adding ReelDx cases further enhances the platform with real interactions, assisting users in getting to the right diagnosis and treatment as soon as possible."
Rosalind Franklin University of Medicine and Science (RFUMS) in North Chicago, Ill., is the first institution to take advantage of Isabel populated with ReelDx cases as an integrated and critical part of the medical school's curriculum.
"Technologies like ReelDx and Isabel are helping to teach future generations of clinicians how to more effectively and more accurately diagnose patients," said Jim Carlson, Ph.D., PA-C, dean of the College of Health Professions and associate vice president for clinical simulation at RFUMS. "Together, they offer the opportunity to better engage students in realistic case-based learning with the goal of improving critical thinking and clinical reasoning skills."
RFUMS medical students are benefitting from the educational value of the Isabel tool, which assists them with thinking through diagnostic possibilities by creating a differential list. Isabel not only assists by asking the question, "What else might be going on?" but it also provides access to the rich library of ReelDx cases to enhance case-based learning.
"Integrating the ReelDx cases with Isabel's clinical support tools just makes sense," said Dr. David Spiro, co-founder and chief medical officer of ReelDx. "ReelDx Education exists to help students and clinicians alike master the art of medicine. Video cases provide a robust view into the realities of patient-clinician engagement, and allow users to hone clinical decision making in a realistic setting."
About Isabel Healthcare
Isabel Healthcare Inc. was founded in 2000 by Jason Maude and is named after Maude's daughter, who almost died after a potentially fatal illness was not recognized. For over 10 years, Isabel Healthcare has provided the Isabel diagnosis decision support system to hospitals, physician practices and individual physicians, and gained peer-reviewed validation and unmatched experience. Today, Isabel is the only diagnosis checklist system fully integrated with EMR and is used by thousands of physicians, nurse practitioners, physician assistants and students worldwide, providing diagnostic support and education by broadening their differential diagnostic considerations. To learn more, connect with us at http://www.isabelhealthcare.com, 734-332-0612.
About ReelDx
ReelDx® uses a HIPAA-compliant, cloud-based platform to enable the secure and easy creation, storage and sharing of Personal Clinical Video™. The company's vision is to enable the use of video to enhance medical education, provider-patient communication and the overall quality of medicine practiced at the human level. ReelDx Education offers curated and peer-reviewed libraries of video-based real patient case studies captured by providers in clinical settings, and by medical first responders in the field. Contact ReelDx at info@reeldx.com or 855-697-3353 to learn more.
About Rosalind Franklin University of Medicine and Science
Formed in 1912 as the Chicago Hospital-College of Medicine, Rosalind Franklin University of Medicine and Science is a national leader in inter-professional medical and healthcare education, offering a doctor of medicine program through the Chicago Medical School, doctor of podiatric medicine program through the Dr. William M. Scholl College of Podiatric Medicine, and a range of degrees through its College of Health Professions, including nurse anesthesia, nutrition, physical therapy, pathologists' assistant and physician assistant. The mission of Rosalind Franklin University is to serve the nation through the education of health professionals and the discovery of knowledge dedicated to improving the health of its people. Life in Discovery. Find out more at http://www.rosalindfranklin.edu.
FOR IMMEDIATE RELEASE
Contact:
For Isabel Healthcare:
Don Bauman, CEO
734-332-0612
don.bauman(at)isabelhealthcare(dot)com
For ReelDx:
Theresa Maloney
Cogenta Communications
415-225-5261
theresa(at)cogentacom(dot)com