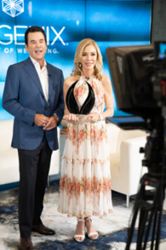 "We're humbled to receive this award and to be part of the tremendous work the Unstoppable Foundation is doing to create a safer and more just world for everyone. It aligns perfectly with our belief that everyone deserves to experience a healthy, joyful, and abundant life." - Jim Coover, Isagenix
GILBERT, Ariz. (PRWEB) April 26, 2021
To honor their generous support of its mission to ensure every child has access to the lifelong gift of education, the Unstoppable Foundation has presented Isagenix International Co-Founders Jim and Kathy Coover with its Unstoppable Legacy Award.
The Coovers have generously donated to California-based Unstoppable Foundation for the past decade and are members of the nonprofit humanitarian organization's Heroes Club. The club consists of individuals who've made a long-term financial commitment to transforming the lives of children and their families through the foundation's five pillars of sustainability: education, clean water and sanitation, food and nutrition, healthcare, and income training and empowerment. The Coovers' donations have brought those five pillars to over 12,000 people in the Maasai Mara region of Kenya.
"Jim and Kathy are an inspiring couple, and I'm so grateful for their partnership," said Unstoppable Foundation Founder and Chief Executive Officer Cynthia Kersey, who presented the award during the foundation's Unstoppable Celebration of Courage virtual event. "Through their generosity as well as their support through the ISA Foundation, they've helped save countless lives where the need is greatest."
The ISA Foundation, a 501(c)(3) nonprofit organization operated by Isagenix, focuses on healthy nutrition and support for underserved children, wellness education for all, aid for those affected by natural disasters, and the pursuit of racial equality. The nonprofit has awarded the Unstoppable Foundation more than $350,000 since launching in 2018. The Unstoppable Foundation has used the funds for projects like helping villages in Kenya with basic food needs, medical supplies, educational resources, community gardens, and increased sanitation practices.
Kathy Coover said she and Jim are thankful to be part of the Unstoppable Foundation's work. "We're honored to help Cynthia's dedicated and compassionate team provide critical education and assistance to children and families in developing countries," she said. "There's nothing more rewarding than knowing you're making a difference in someone's life."
Jim Coover agreed. "We're humbled to receive this award and to be part of the tremendous work the Unstoppable Foundation is doing to create a safer and more just world for everyone," he said. "It aligns perfectly with our belief that everyone deserves to experience a healthy, joyful, and abundant life. We look forward to watching the Unstoppable Foundation's impact grow in the years to come."
To learn more about Isagenix, visit the Newsroom, like the company on Facebook, and follow it on Twitter and Instagram.
About Isagenix International
Established in 2002, Isagenix International believes that everyone deserves to experience a healthy, joyful, and abundant life. The global wellbeing company artfully crafts more than 175 effective products and offers a supportive community for its more than 550,000 customers worldwide. Isagenix shares its products through a network of independent distributors in 26 markets: the United States, Canada, Puerto Rico, Hong Kong, Australia, New Zealand, Taiwan, Mexico, the United Kingdom, Ireland, the Netherlands, Belgium, Spain, South Korea, Austria, Denmark, Finland, France, Germany, Italy, Japan, Norway, Poland, Portugal, Sweden, and Switzerland. The private family-owned company has its world headquarters in Gilbert, Arizona. For more information, visit Isagenix.com.