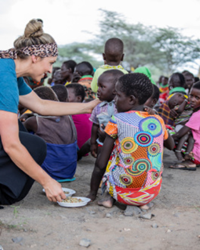 Now more than ever, companies need to step up, give back, and champion sustainability so people around the world and our planet can thrive. At Isagenix, we're honored to do just that. – Isagenix CEO Sharron Walsh
GILBERT, Ariz. (PRWEB) October 16, 2020
By nourishing and uplifting hundreds of thousands of people and reducing its carbon footprint, global wellbeing company Isagenix International is making an impressive impact worldwide, as detailed in a new report.
"Now more than ever, companies need to step up, give back, and champion sustainability so people around the world and our planet can thrive," said Isagenix Chief Executive Officer Sharron Walsh. "At Isagenix, we're honored to do just that. Contribution and community have been part of our DNA since we started in 2002, and it's exciting to see the incredible ways we're making a difference."
Highlights from the new 2019-2020 "Isagenix Social Impact Report" include:

Since launching in 2018, the company's ISA Foundation has awarded $3.4 million in grants to 79 nonprofits in the United States and Canada, including 12 grants totaling $525,000 to U.S.-based nonprofits providing COVID-19 relief. The $3.4 million in grants has provided over 5 million meals, funded over 30,000 educational events, and served over 225,000 children and families worldwide.
In June, the foundation added a fourth focus area, the pursuit of racial equality, so it can partner with nonprofits to encourage and support diversity and inclusion across the globe. The first partnership involved a $50,000 grant to the NAACP Legal Defense and Educational Fund, America's premier legal organization fighting for racial justice.
Isagenix is committed to employing a diverse workforce. As of August, 64% of U.S. workers were women, and 39% were racial minorities. In September, the company announced its first female CEO, Sharron Walsh, who is a member of the Isagenix executive leadership team along with Kathy Coover, co-founder and executive vice president.
The company is making significant progress toward its goal of zero waste packaging by 2028. More than half of its products packaged in bottles and canisters are now made with 100% post-consumer recycled (PCR) plastic. And in July, Isagenix introduced a recyclable gusset bag for its Whole Blend IsaLean® Shakes that will result in 80% less plastic used, or about 5,073 fewer tons of carbon dioxide emissions over 12 months.
In 2020, the company stopped using cardboard boxes when moving shake canisters from its third-party manufacturers to its distribution centers. Instead, it uses cardboard trays, reducing the use of cardboard by 3.2 million square feet over the course of a year.
Photovoltaic solar panels installed on the parking lot shade structures at the Gilbert headquarters provide approximately 463,000 kilowatt-hours of renewable energy annually, powering nearly one-fourth of the building.
The company's dedication to supporting the communities it serves and improving the environment has received multiple honors, including two recent recognitions:
Isagenix has been named a 2020 Az Business Angels Awards finalist in the Outstanding Corporate Responsibility category. The company is being recognized for the impact it's making through product donations, volunteerism, sustainability efforts, and the ISA Foundation. Isagenix will learn in November if it won its category.
Isagenix won a Bronze Stevie® Award in the Most Valuable Corporate Response category of the 2020 International Business Awards® in September. The category recognized organizations for how they have ensured their employees' and communities' wellbeing during the COVID-19 pandemic.
To learn more about Isagenix, visit the Newsroom, like the company on Facebook, and follow it on Twitter and Instagram.
About Isagenix International
Established in 2002, Isagenix International believes that everyone deserves to experience a healthy, joyful, and abundant life. The global wellbeing company artfully crafts more than 175 effective products and offers a supportive community for its more than 550,000 customers worldwide. Isagenix shares its products through a network of independent distributors in 26 markets: the United States, Canada, Puerto Rico, Hong Kong, Australia, New Zealand, Taiwan, Mexico, the United Kingdom, Ireland, the Netherlands, Belgium, Spain, South Korea, Austria, Denmark, Finland, France, Germany, Italy, Japan, Norway, Poland, Portugal, Sweden, and Switzerland. The private family-owned company has its world headquarters in Gilbert, Arizona. For more information, visit Isagenix.com.