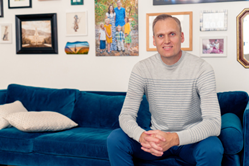 "During his 10 years at Isagenix, Mac has shown an impressive ability to connect with, support, and energize our independent distributors. He embodies the mission and vision of Isagenix, and I'm thrilled to have him on our executive leadership team." – Isagenix CEO Sharron Walsh
GILBERT, Ariz. (PRWEB) April 09, 2021
In recognition of how his leadership and expertise have helped the company best serve and inspire its independent distributor sales force, Isagenix International has promoted Mac Larsen to senior vice president of global sales. He is also now serving as a member of the global wellbeing company's executive leadership team.
Larsen was previously vice president of sales, North America. He has also served as vice president and regional general manager of Australia and New Zealand. As vice president of sales, his accomplishments include establishing the strongest regional sales team in company history and simplifying the systems independent distributors use to grow their businesses.
"During his 10 years at Isagenix, Mac has shown an impressive ability to connect with, support, and energize our independent distributors," said Isagenix Chief Executive Officer Sharron Walsh. "He embodies the mission and vision of Isagenix, and I'm thrilled to have him on our executive leadership team."
In his new role as senior vice president of global sales, Larsen is responsible for coordinating global sales efforts, supporting and growing the customer base globally, and creating programs and promotions to boost growth.
"I'm excited to take this next step in my career at Isagenix, as it allows me to partner with hundreds of thousands of independent distributors around the world," Larsen said. "Together, we can make an incredible impact on people's lives."
Larsen, who has nearly 17 years of experience in the direct selling industry, joined Isagenix in 2010 as director of North American sales. He was promoted to vice president of sales programs in 2013 and has continued to rise in the ranks of the company. He spent three years in Australia overseeing the Australia and New Zealand markets before returning to the U.S. corporate headquarters in 2019.
Prior to Isagenix, Larsen was director of sales for another direct selling company, helping the business grow to nearly a billion dollars in annual sales.
To learn more about Isagenix, visit the Newsroom, like the company on Facebook, and follow it on Twitter and Instagram.
About Isagenix International
Established in 2002, Isagenix International believes that everyone deserves to experience a healthy, joyful, and abundant life. The global wellbeing company artfully crafts more than 175 effective products and offers a supportive community for its more than 550,000 customers worldwide. Isagenix shares its products through a network of independent distributors in 26 markets: the United States, Canada, Puerto Rico, Hong Kong, Australia, New Zealand, Taiwan, Mexico, the United Kingdom, Ireland, the Netherlands, Belgium, Spain, South Korea, Austria, Denmark, Finland, France, Germany, Italy, Japan, Norway, Poland, Portugal, Sweden, and Switzerland. The private family-owned company has its world headquarters in Gilbert, Arizona. For more information, visit Isagenix.com.