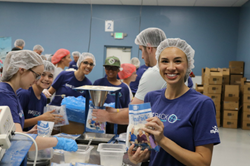 We strive to make a lasting difference in people's lives, from helping customers nourish their bodies and improve their health to partnering with nonprofits so they can have the greatest impact possible on the communities they serve. - Travis Ogden
GILBERT, Ariz. (PRWEB) November 05, 2018
Isagenix International, a global health and wellness company providing nutrition and lifestyle solutions, took the No. 8 spot on the Phoenix Business Journal's 2018 Largest Phoenix-Area Corporate Philanthropists list. The list ranked 29 companies based on their 2017 cash contributions to Arizona charities.
In 2017, Isagenix contributed $6.4 million in monetary and product donations to charitable and disaster-relief causes around the world, with $2.35 million in cash going to Arizona groups including Make-A-Wish®, Girl Scouts Arizona Cactus-Pine, and the Better Business Bureau Foundation. For example, Isagenix served as the sole corporate sponsor of the Better Business Bureau's Ethical Athlete Scholarship. The company's $50,000 investment supported recognition of male and female high school athletes in Arizona each month of the school year for doing the right thing. Isagenix is sponsoring the scholarship in 2018 as well.
The company's volunteer efforts in 2017 included employees donating their time to groups such as Feed My Starving Children and United Food Bank, both in Mesa. The company also led Global Give Back Day, an initiative that encourages Isagenix customers, independent distributors, and employees to give back to their communities and the environment. Locally, Isagenix partnered with the city of Chandler Parks & Recreation to spend the day cleaning up Veterans Oasis Park. The company led Global Give Back Day again in 2018.
These philanthropic efforts are just a few examples of how Isagenix embodies its core value of contribution.
"We strive to make a lasting difference in people's lives, from helping customers nourish their bodies and improve their health to partnering with nonprofits so they can have the greatest impact possible on the communities they serve," said Isagenix Chief Executive Officer Travis Ogden. "Isagenix is honored to be recognized as one of the Largest Corporate Philanthropists, and we look forward to giving back to others for many years to come."
As part of its commitment to philanthropy, Isagenix established the Isagenix Legacy Foundation in August 2018. The 501(c)(3) nonprofit organization seeks to create sustainable impact globally through volunteer efforts and charitable contributions focused on healthy nutrition for underserved children, wellness education for all, and aid for those affected by natural disasters. The Foundation raised $2.3 million during its first 24 hours of fundraising and is now accepting grant applications from U.S.-based 501(c)(3) nonprofits who further its mission. Applications are due Nov. 15, and the first grants will be awarded in January.
To learn more about Isagenix, visit its Newsroom, like the company on Facebook, and follow it on Twitter and Instagram at @Isagenix.
About Isagenix International
Established in 2002, Isagenix provides systems for weight loss, energy, performance, healthy aging, and wealth creation. With nearly 600,000 customers worldwide and more than 100 life-changing products, packs, and systems globally, the company is committed to producing Solutions to Transform Lives™. Since its inception in 2002, Isagenix has generated $6 billion in cumulative global sales through a network of independent distributors in the U.S., Canada, Puerto Rico, Hong Kong, Australia, New Zealand, Taiwan, Mexico, Singapore, Malaysia, Colombia, Indonesia, the United Kingdom, Ireland, the Netherlands, Belgium, Spain, and South Korea. Isagenix is a privately owned company with headquarters in Gilbert, Arizona. For more information, visit Isagenix.com.