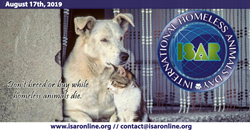 CLARKS SUMMIT, Pa. (PRWEB) August 06, 2019
On International Homeless Animals' Day ISAR and animal protection organizations and advocates from throughout the United States and abroad will unite to shed light on dog and cat overpopulation and the spay/neuter and adoption solution through various activities including free and low-cost spay/neuter clinics, adoption events, candlelight vigils and educational/awareness activities.
Beginning in 1992, ISAR realized the need to bring widespread public attention to the overwhelming crisis of pet overpopulation, and created and sponsored International Homeless Animals' Day, a day that has come to symbolize hope for homeless and unwanted companion animals. Since its inception, ISAR's International Homeless Animals' Day has continued to grow and gain momentum in the war against dog and cat overpopulation. To date, International Homeless Animals' Day observances have been held in all 50 American states and the District of Columbia, in over 50 countries, and on 6 continents.
Always observed on the third Saturday in August, IHAD is the first and only international day of action that sheds light on the tragedy of pet overpopulation and the urgent need for affordable spay/neuter and adoption programs in an effort to halt the suffering of unwanted companion animals and feral and stray cats and dogs that have been abandoned and left to fend for themselves.
ISAR encourages everyone to attend an IHAD event in their local community. All 2019 confirmed IHAD events are listed on ISAR's website.
ISAR once again offers a virtual vigil on its website. For the 18th consecutive year viewers can light a candle online in honor or in memory of a companion animal, thus expressing the importance of spaying/neutering and adopting from animal shelters and rescues.
For those who live in an area without a confirmed International Homeless Animals' Day event, please visit your local animal shelter or animal rescue and inquire about adoption and volunteer opportunities, donate much-needed supplies, and/or sponsor a spay or neuter surgery.
Children can participate in IHAD by walking shelter dogs, grooming shelter animals and sharing their time with the animals while they await permanent new homes.